Social Listenin…
Social Listening – Durex

We hope these are very very essential goods and available at all chemists/ homes in these times of lockdown. Else, as social media points out, the world will experience a significant increase in population 9 months from today.
And truth be told, there is no other brand that does such a precise, uncluttered job of marketing its condoms than Durex.
Sure, this view is possibly keeping in mind an urban/ urban like customer in mind, but the brand's ability to stimulate the mind through its communication (less seedy images) is unparalleled in this category.
In the last 90 days, the brand has had a whopping 1300 mentions in social media, reaching 470 Million of its customers. Extremely powerful numbers. Its own channels of marketing are most effective in building reach and scale and the brand uses them very efficiently.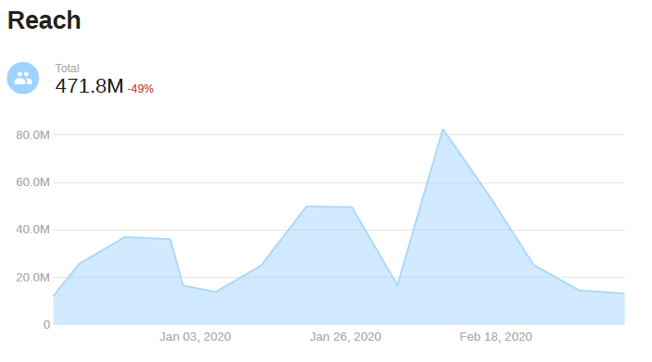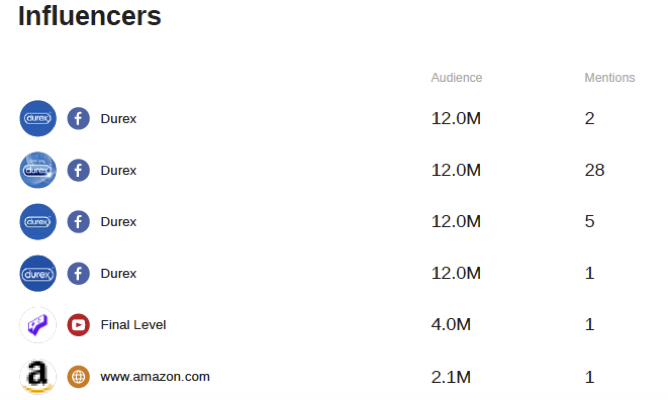 Durex is very active across different mediums. However apart from Twitter, we believe its content is well created and presented to each medium.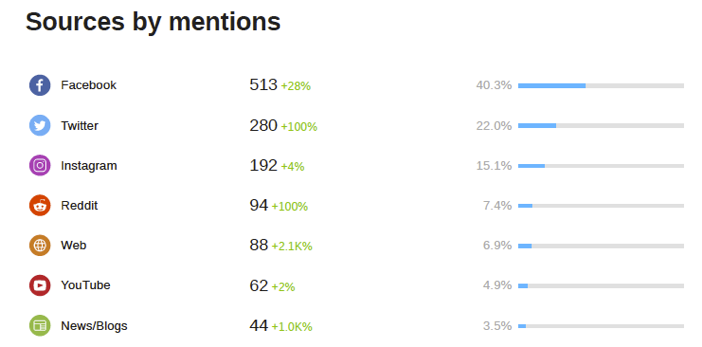 Instagram:
Few other brand do Insta better than Durex. (Chumbak is another great example).
And in its category we found none as effective and outstanding as Durex. The consistency and coherency of its messaging and visuals makes it a very very powerful presence. There are no distractions, no quirky images.
The text is minimal, the brand colour stand out well. The engagement is very high, consumers liking its tonality and messaging. Durex is tapping well into its audience's openness to discuss sex in humorous, direct ways.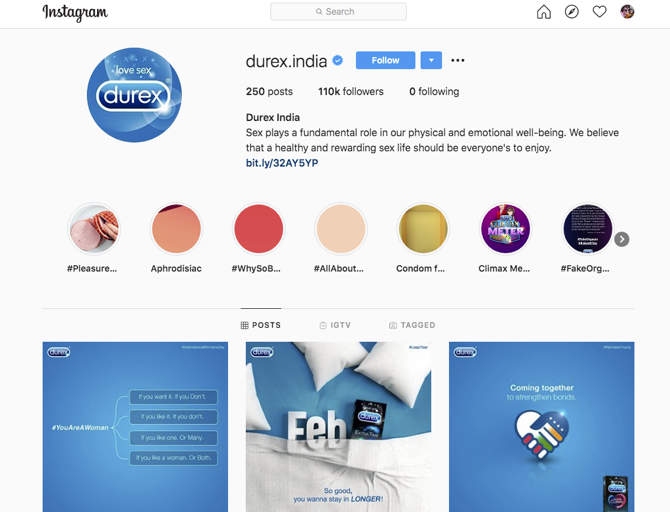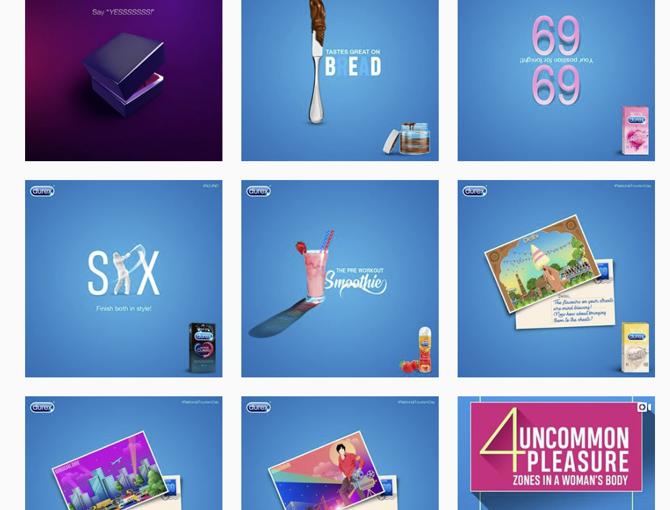 Twitter:
On Twitter, the brand is struggling for its voice. The platform is being used as a digital billboard, with its content/ promotions being expressed as in any other platform. There isn't a pov on contemporary life that makes it stand out. Consumer engagement is lowest for the brand here.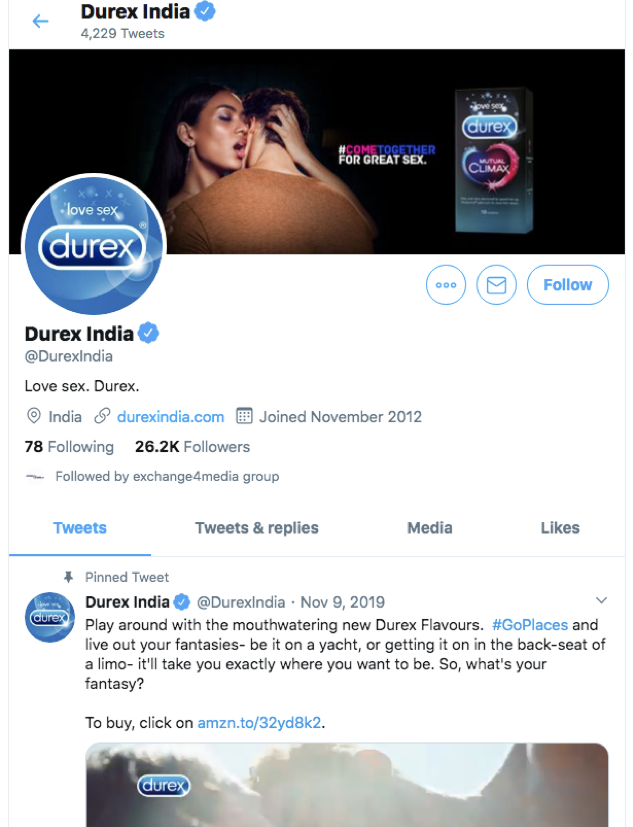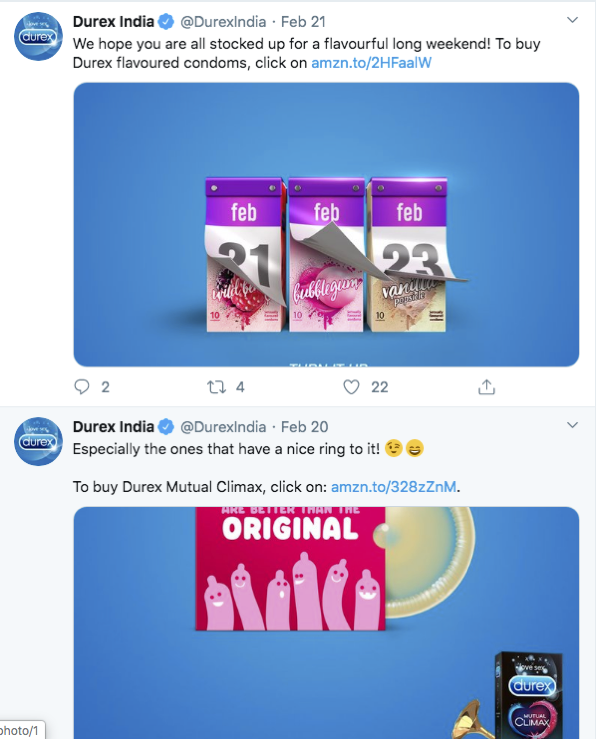 Youtube and Facebook:
Durex youtube channel is a good expression of the brand's fun and playful look at sex, opening up the discussion with interesting innuendos.
Where the brand could do more, is perhaps open itself to consumer generated content? This is a widely used category and its audience could easily share their own experiences with the brand keeping in mind the tonality and personality of Durex.
Consequently, it's a lot of Durex to consumer content. Very little peer to peer or consumer to Durex conversation.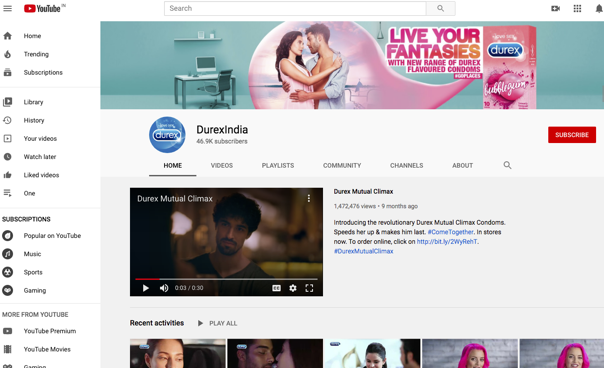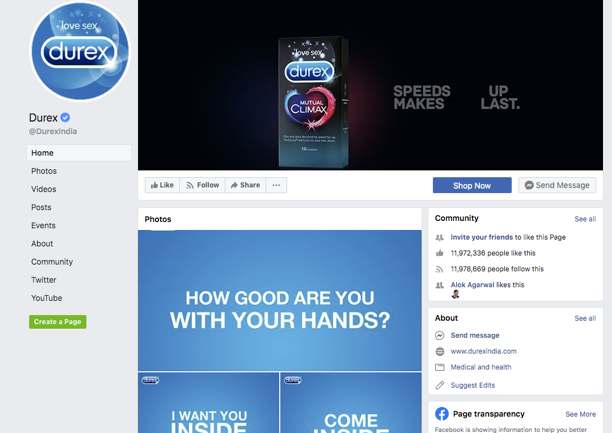 Conclusion
Sex can and must be playful, fun, enjoyable and pleasurable for men and women. That's the profound truth that Durex has established itself on. So not safety , not responsibility, not flavours and not innovation. Is this is a risky strategy is not the purpose of this note.
But Durex does tap into consumer sentiment very well and consistently. Its imagery, style of propose, brevity connect with a TG looking to enjoy conversations around sex.
With social media being such a melting pot of ideas and expressions, stepping out and inviting consumers to share their own point of view could be another way of engaging with consumers- something the brand has not yet experimented with in a big way.