Affordable & ac…
Affordable & accessible health insurance for all: The "Plum" way of e-healthcare!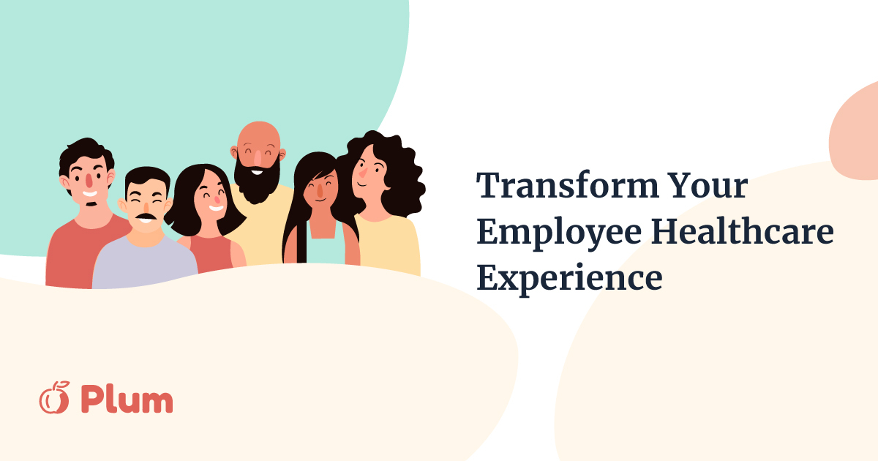 In the recent wake of events, people have become more vigilant about their healthcare benefits and insurance. It is no longer something that is advised for middle-aged people who are looking to secure their children's and their own future. In addition, today's healthcare is beyond physical ailment, it expands to mental and emotional health- and the future generation is looking for the entire package.
Plum has addressed this gap by leveraging technology to provide organizations of all sizes with comprehensive and affordable insurance policies that are tailored to their employees' needs.
Plum became a lifeline in India's unorganized insurance sector, which had few products for early-stage companies and SMEs.
How does it work?
Plum is a healthcare solution that is simple to use, easy to activate on the go, allows for real-time claim usage, and is easy to include or remove employees. With complete group health insurance and a flawless digital claims process, Plum has altered the employee healthcare experience. This includes top-of-the-line health insurance at an accessible price, with no surprises, hidden fees, or out-of-pocket charges. The platform streamlines the process of purchasing and setting up health insurance and benefits, eliminating the need for complicated negotiations with brokers and agents. That is, the insurer provides the employer with clear pricing.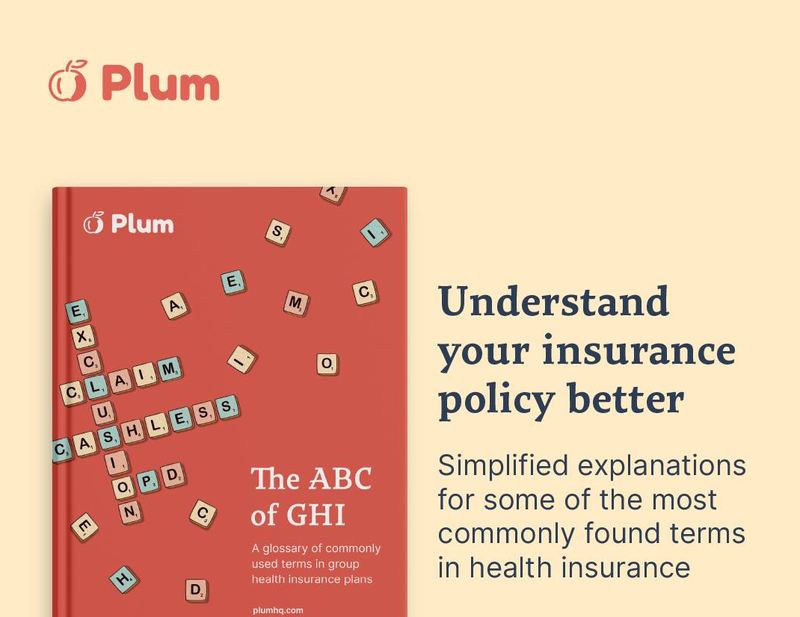 Plum's personalized experience ensures that employees receive the care they require from premium health ecosystem partners. So much so that they can comprehend and manage it with the help of a 24/7 helpline that offers chat, phone, and email support. It also established a WhatsApp-enabled claims system during the pandemic after learning that employees were frequently confused about the insurance they were issued, whom to contact, and in some cases, couldn't recollect their insurance policy number or healthcare ID.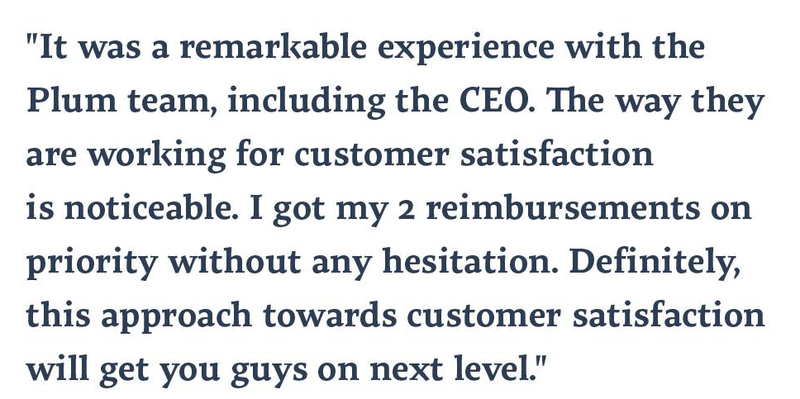 Their product proposition is powerful, yet needed a smart marketing strategy to expand outreach.
What was their marketing and digital strategy?
Plum's major platform for brand awareness is Instagram and LinkedIn. The digital marketing strategy was simple: raise awareness regarding healthcare. That is, the content centred on subjects like - various types of healthcare we require, their necessity, and finally how Plum fits into this picture—all presented in visually attractive graphics, Customer testimonials, collaboration stories that appeal to the next generation of leaders and healthcare enablers.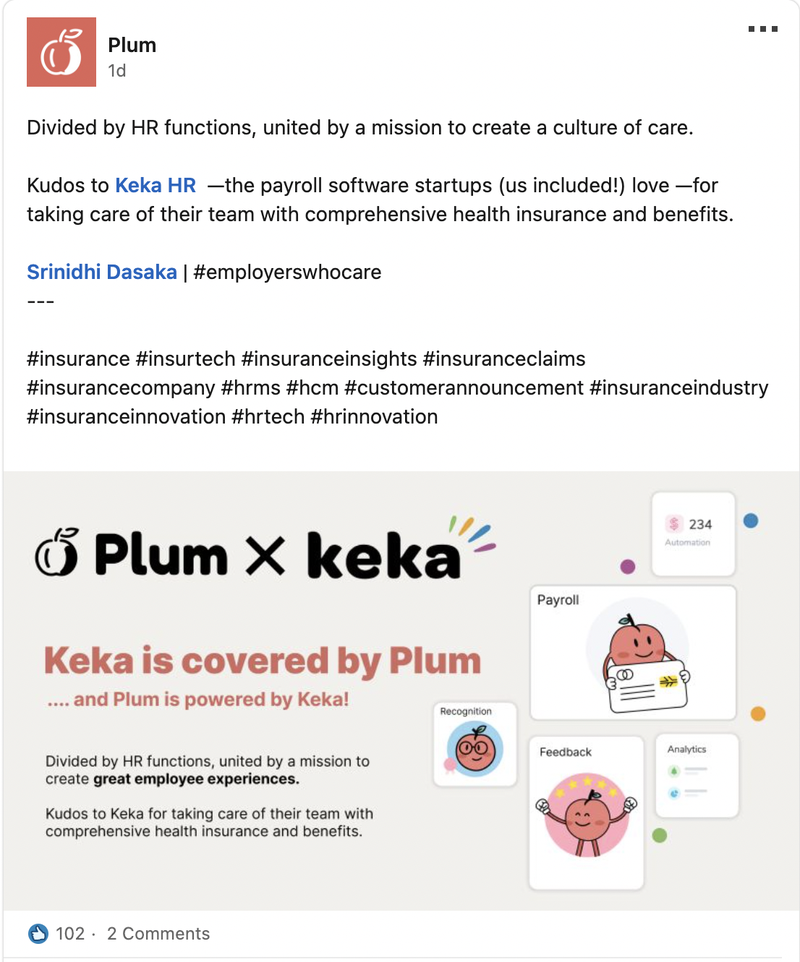 Plum also used Instagram to share insights on exclusive events for their members on the platform, in collaboration with medical experts.
This move by their digital marketing strategy teams piqued more interest and induced trust for the brand.
Where are they headed?
In 2021, Abhishek Poddar, Co-founder and CEO, of Plum, said, "Plum is on a mission to make health benefits and comprehensive employer-employee insurance available to the most underserved segments. Our first launch in this space is for early-stage startups, SMEs and gig workers/ freelance consultants. We aim to create wellness-first behaviour in workplaces that care." He added that Plum aims to insure 10 million lives by 2024 while trying to ensure that no one remains under-insured due to unaffordability or lack of access.
Insurance coverage is exceedingly low among India's 6.3 million SMEs and 15 million gig workers. Plum is bridging a need in the market for early-stage entrepreneurs and SMEs with an easy-to-set-up-and-use product. Plum boasts that 83% of its clients came through word of mouth, thanks to a high-quality customer experience that its founders brag about.
Plum has grown by 800% in a year, serving over 1,000 fast-growing businesses. In every wave of the pandemic, the company has insured over 100,000 members and has been a big supporter of small businesses and the startup sector.
"Our audacious vision is to take the country's health insurance penetration numbers to 100%. We aim to reach a milestone of 10 million lives insured by 2025, by transforming the employee health insurance space," says Abhishek Poddar, Co-founder and CEO, Plum (2021).
Another essential aspect of Plum's success is that each of its products is tailored to the needs of its customers. Plum already has over 15,000 customers who use it over WhatsApp. Customers benefit from a smooth and fast experience because 80% of all claims are processed using the platform. They intend to keep working to provide world-class product experiences to employees and HR teams in order to establish the brand as the most trusted in health insurance.
Plum has a very clear marketing strategy and a very focused approach towards the use of social media. It has focused on Instagram and LinkedIn with consistent content in an attractive and informative format along with brand awareness. Learn more about how brands use education as a marketing strategy to make themselves memorable on GroCurv.