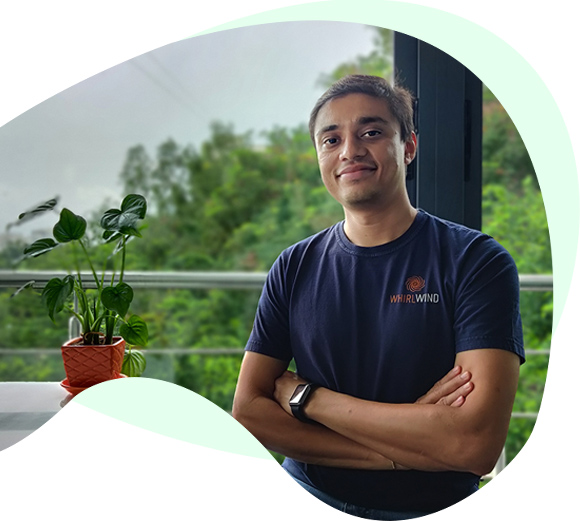 WhirlWind
---
How did you come across GroCurv?

We were introduced to GroCurv through a common friend who was aware of our work, and of this platform which was beginning in early 2019. We found the concept interesting and thought of signing up. Their approach is very professional and quite effective. I must say that, for the opportunities that we have accepted, we are very pleased overall. Today, two years from our introduction to GroCurv, we can say that today we are very pleased with this collaboration.


How are you benefiting from GroCurv?

GroCurv gives us leads very relevant to our experience, our pricing and industries we like to work in. Their algorithm really works. Each time, we have got real projects. And the project lead only comes to us once the client has accepted our credentials. So these are very hot leads. The real contribution of GroCurv is the quality of the lead and of the information they provided us during the process. The project monitoring module is very transparent. And we have had no payment failures in 2 years.
---
We didn't win every project of course, but we had conversion rates that were objectively high.
---
What about the New Business generated?

The contribution of GroCurv to prospecting new customers is interesting for several reasons. GroCurv is interested in knowing our preferences on projects. Work we have done and would like to do. That's how their algo matches us to the right project. We have listed a number of services that we deliver. The contribution of GroCurv is also the qualification of customers' needs and a good customer targeting.


Why should agencies use GroCurv?

I think any company seeking relevant leads, interesting projects and payment assurance should be interested in GroCurv. In our industry, there is a bit of everything: freelancers, boutiques studios, big agencies, etc. Customers often get confused what they want. But GroCurv does a great job of understand the client requirement before bringing the agency into play, Its very time efficient.


3 words to describe your experience?

Professionalism, accuracy and efficiency. These three qualities are what is typically expected from this kind of service. I don't want to waste time dealing with leads that are not real. At GroCurv, I receive quality leads that always have real projects, no matter if I win or not. After the matching, it's our job to convince the client!