Social listenin…
Social listening in election campaigns- Gurgaon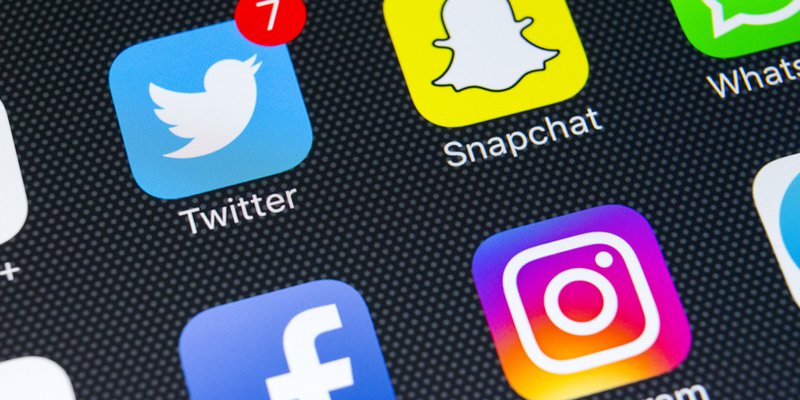 Nothing catches our attention as the elections. The drama, the energy, the promise, the build-up, the predictions, the critiquing, and finally the victory (or defeat). The true Indian drama. So fundamental to our democracy that none of us can ignore it.
Over the years, we have heard slogans blaring from a convoy of auto-rikshaws, cars, motorbikes. We have seen posters, large billboards, wall paintings; extolling the values of the candidates, exhorting us to vote for the candidate. No medium of communication was ever left out of this.
Now with the advent of social media, we wanted to explore how our aspirant legislators are exploiting this new and powerful tool. (And, if you're part of the minority that hasn't read this post on Russian–American collaboration post the Cold War, do take a minute - https://en.wikipedia.org/wiki/Russian_interference_in_the_2016_United_States_elections.)
So, social media - it's a powerful weapon. And used properly, legitimately- can create awareness, influence, and consumer impact on a phenomenal scale.
Social media, can build brands very, very quickly. If used right.
And we think the current Haryana assembly elections should be a good case study on this promise.
With a sharp eye on Gurgaon, we tracked from 4th to 18th October, how social media is being used by the BJP and Congress candidates to further their agenda and connect with the electorate. Through these posts, GroCurv.com (a professional solutions market place) along with Whirlwind (a full stack digital marketing agency) will illustrate how the approach of the two candidates varies, what's the social media impact of each, and what changes in their strategy could be undertaken as we reach voting day.
Here is a summary on what happened from the day the Gurgaon candidates' names were announced till the last listening report we extracted on the 19th of October.
When we looked at the report from the listening tools, 48 hours after the announcement of the Gurgaon candidates, both candidates had an equal number of social media mentions.
However, the Share of Voice- the reach that social media has given the two candidates is very different. Here, Sudhir Singla has a massive advantage. What seems to be happening is his vehicle of choice, The Times of India has a far higher reach on twitter.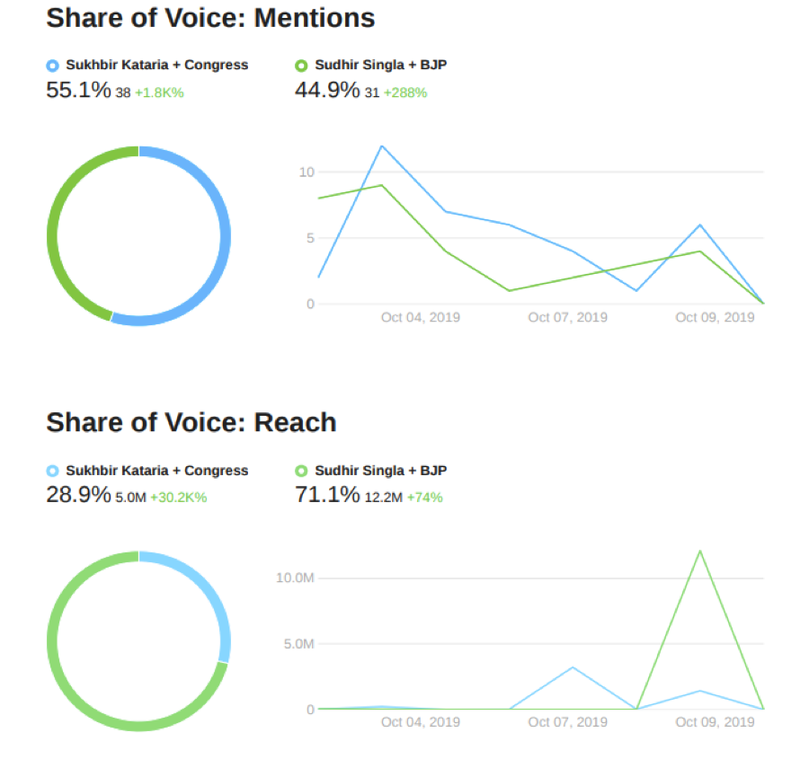 Specifically, if we look at which mediums gave this impetus, its Twitter.com all the way that's singing for Mr. Singla. While Mr. Kataria has more mentions on Twitter, the reach that Mr. Singla's tweets have got is phenomenal.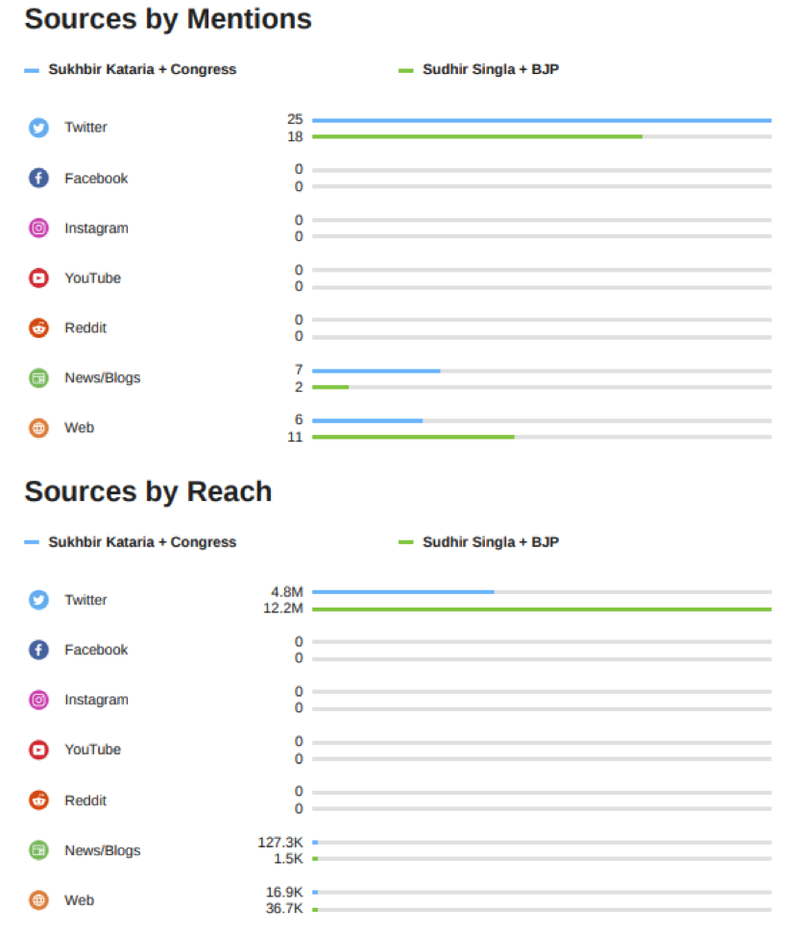 News sites is where Mr. Kataria's team seems to have focused. However, the reach of these news sites is nowhere close to Twitter. Yes, we may argue that news feeds and blogs are longer format, and more informative. But, the first task in brand building is simply awareness. Or Reach. The number of people who have heard of a brand (Mr Singla/ Mr. Kataria.)
Here Team Singla won.
Now let's look at sentiment. What was the initial opinion wave looking like? Remember, this is important because the early adopters (people who have an opinion on either candidate) are very likely to influence the next set of voters. Hence early reviews are critical. (We all knew that right? Why ratings on Amazon.com and Zomato.com are so fanatically cherished by brands?)
Everyone likes to be seen with a potential winner. Or the better guy. Especially if they haven't had time to make up their own minds. On this count, while team Kataria had more positive sentiment (23.7%), they also have more negative sentiment (-18.4%).
A very simplistic measure - the net preference score for team Kataria early in the campaign was 23.7%-18.4% = 5.3%.
Team Singla = 19.4%-6.5%= 12.9%.
Once again, team Singla seems to have an early start. And the right start.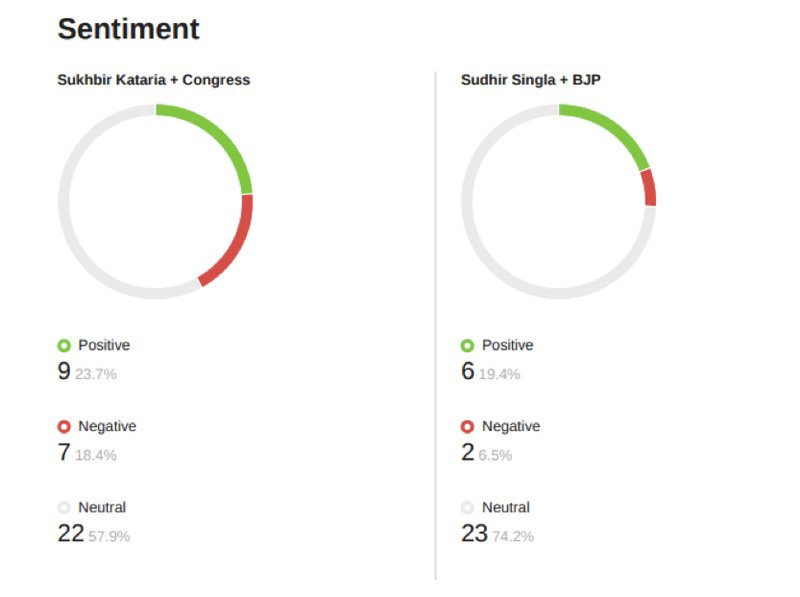 Once the candidates names were announced, we expected a "lull" in social media activity and sure enough, social media mentions in-fact dwindled, after the initial burst. In the case of elections, its very simple to understand this.
The candidate list is kept a secret till announced. So the first announcement always creates a lot of excitement and reach.
However, the media team of the political party, or the news media in general doesn't really have any content on the candidate yet. The moment news breaks, is when they start to devise a strategy for each candidate. They dig to get more information. They plan how to create the right and relevant image. This "silent phase" in social media is when the social marketing teams of the candidates are crafting a strategy. Once crafted, the team have only 10-14 days to execute the campaign. In-fact this intensity of the campaign makes elections one of them most interesting marketing problems ever.
Nobody, including the social media strategists know what is going to be launched till it has been launched.
Once launched, everybody knows they have a 15 days window to now build the brand. Create the persona needed, build the story, communicate.
And it's a winner takes all market. There is no second player at the end of 15 days.
Brilliant. Scary. And every Marketer's delight.
The lull, then led to a much higher intensity of social media presence between days 4-8 after the candidates names were announced.
Together, they had more than a 100 mentions in the 3 days, compared to 50 for the 35 day period before; with Mr. Singla leading the charge.
While Twitter was the preferred medium of mass reach post the announcements, in the next 72 hours we were seeing a number of Facebook accounts being created for the two candidates. Mr. Singla had in the week since his nomenclature , 92% share of voice on social media and 86% of the mentions.
What was standing out further is that Mr. Singla has stayed well away from any negative views and maintained a very high % of positive mentions. Mr. Kataria however was carrying the ghost of the "Bharat Mata ki Jai" video which left him with much high negative views. (16%). Surprisingly Mr. Kataria had not started his account on facebook where Mr. Singla took a big lead.
Youtube too had begun to come into play, however both candidates getting share of voice through the NDTV channel on youtube.
On social media, the key messages for the two candidates are were starkly different.
Mr. Singla speaking of good public hospitals and creating some road infrastructure. Mr. Kataria is spending time answering for his Bharat Mata Ki Jai, and also his declared assets of 104 Cr.
The candidates, based on twitter feeds and Facebook posts were spending time in neighbourhoods, meeting voters. Using social media to reinforce their on ground connect. Given their reliance on the mother ship (the BJP and Congress Party respectively), neither had developed a strong local issue based narrative on social media.
Finally, in the days leading to the election, we continued to see Mr. Singla lead on social media with more mentions and more reach, with a share of reach in excess of 95% versus Mr. Kataria at 5%. Driven by a mix of youtube, facebook ,Twitter and mentions on various websites. Clearly team Singla had a clear media plan and executed it very tightly. Mr. Singla reached by far more people, with a positive message sentiment.
So what did social listening tell us about these elections?
The BJP has at a granular level mastered the art of reach. They jumped onto social media quickly, took the right platforms (Times of India on twitter, NDTV on the web and youtube, and a series of accounts on FB that promoted Mr. Singla).
They monitored what their candidate was saying. Throughout the campaign, Mr. Singla had no "negative" mentions in the media. Compared to this, Mr. Kataria's "Bharat mata ki jai" video put him and the party on the defensive. Add to this Mr. Kataria's personal declared wealth of 100Cr which the media focused on more than his manifesto.
If indeed the congress had a social media and listening presence in place (they did do a social media workshop very early in the campaign), we think they missed a few tricks.
- A social media strategy need not wait. A specific strategy for the candidate could. This means that given the elections were coming up, a plan for which media to target, how to sequence the messaging, what events to create (for social amplification). All of this could have been well planned. The BJP appeared to have this homework done.
- Keep social media listening tools in place. Clearly in the first 72 hours, team Singla had moved ahead in terms of reach as well as positive messaging. The right tools would have highlighted this to team Kataria, allowing them to respond appropriately. Whether it was or not the Congress strategy, there was just not enough positive news of Mr. Kataria online.
- Width of media is critical. Focusing on only one medium, say Twitter limits us to the type of content that can be generated. As also the reach. Facebook has different messaging possibilities compared to a blog or twitter or youtube. Each content piece must be adapted to different mediums in order to reach the relevant TG.
Lets see what the verdict of the masses will be, but we expect , basis social listening that Mr. Singla will win by a significant margin.
As social media evolves and the tools to evaluate performance versus competition become more widely available, brands will be able to be more dynamic in their messaging and reach to consumers. While the elections shared some key learnings, we will take different brands over the next few months and share how social learning could help them stay ever closer to their millions of consumers.
Note: All data here has been acquired through the use of the AWARIO social media and web monitoring tool.