Marketing Lesso…
Marketing Lessons from Peloton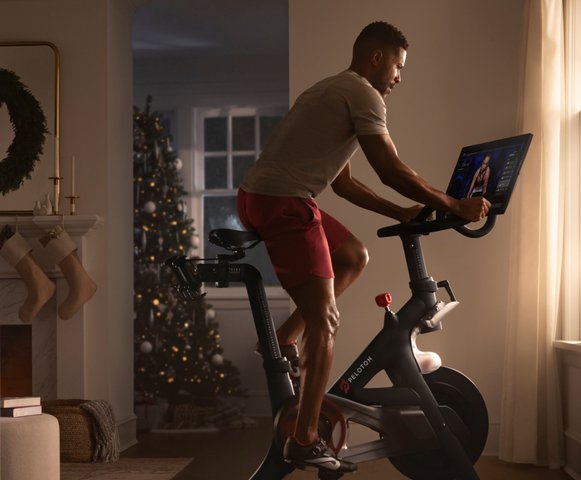 Across the world today, conventional gyms are reinventing themselves, offering various new routines and classes that make workouts a lot more fun. From fitness wear and health food to apps and equipment, the entire fitness industry is witnessing a boom like never before. 
And yes, while a health club membership is still sought out by many, there are others for whom stepping out for an uninterrupted hour at the gym is not always possible. Like professionals with erratic schedules, stay-at-home mums, businessmen with a full calendar or those positioned in areas without adequate access to quality fitness centres. 
In such cases, it makes sense to invest in at-home fitness solutions, such as apps that provide personalized plans. And it is this very audience that would also stand to gain from fitness equipment like the Peloton. 
Have You Heard of Peloton?
When you're hungry to get fit there are two things you need-
Looping or spinning classes are hugely popular because you get to workout with a trainer and in a group of equally motivated people. This is where it scores over practising solo indoor cycling. Being in a group keeps up motivation like nothing else. In the absence of which, you are sure to fall off your routine. 
Identifying this gap and seizing the opportunity is Peloton- an indoor cycle hooked up to a Wi-Fi-enabled touchscreen tab. You can view and participate in riding sessions from the comfort of your home. All it takes is a monthly subscription to the online classes and you're good to go. It's the perfect combination of technology and fitness. The motivation to ride doesn't fade and thanks to the videos you can workout under an instructor. 
How Peloton Spoke To Its Customers
i) Direct to Consumer
For an idea like Peloton to succeed, it becomes necessary to invest in marketing that educates people about it. Since the bike itself is priced on the higher side, the company initially targeted only a certain section of people who could afford the product. However, targeting just the affluent could only work so far. It was necessary that they also widen their base to include those who wouldn't mind spending a little extra. And by highlighting the fact a Peloton would save them much more in the long run, especially when compared to gym memberships. 
The other interesting practice adopted by the company was selling a bike of those dimensions directly to consumers. The B2C approach kicked it off for them. That, combined with well-timed campaigns on social media around the holiday season, worked in favour of sales. 
Peloton does not talk about its product as much as the experience of using it. In their campaign during the winter Olympics, for instance, the commercial featured the life of a busy mum having to deal with the everyday emotional and physical strain. With Peloton, she is able to focus on herself and realize that 'better is in us'. The ad managed to make a very elegant connection with the viewers without harping on the features of the product. Its focus on the consumer experience was the driving force of the campaign. Peloton was instantly associated with being strong and this spoke volumes about the brand.
ii) Identifying Its Core USP
But what really is the USP of this product? Interestingly enough, the company didn't sell the bike as hard as it sold its instructors. The equipment is a tool, but without those high energy lessons from experienced trainers, the bike would mean nothing. 
Given its B2C approach, it made sense to promote the brand over social media where you can engage with your target directly. Regular updates and posts about the instructors, videos of them in action, pictures from photoshoots with the instructors- the brand decided to make their employees their in-house celebrities. What's more, it worked. On YouTube, for instance, the brand took to posting short Q and A videos with their instructors, along with healthy recipes and relevant videos. 
Some of the instructors have actually achieved a cult-like following. They are celibrities in their own right with thousands of followers on Instagram. One of their most popular instructor, Arzon has a solid following of 200,000 and counting. High energy, constant motivation are the reason behind their success. Some even have their own catchphrases like 'Be the boss of your bike. Be the boss of your life.' Arzon's followers swear by her catchphrase, 'sweat with swagger.' Think of them as taglines and you begin to understand the Peloton brand building exercise.
The instructors are not yelling at you to give your best. They inspire with every post and users can choose to take classes with their favourite trainer. Have you just completed a milestone? How cool would it be if your favourite instructor did a shout out in front of everyone? It's experiences such as this that brings alive what would otherwise have been a lonely at-home workout.
While social media continues to be the main platform for Peloton's marketing, the company has invested in other media such as email marketing, television, Facebook ads, print etc.  Their main draw however, still seems to be platforms like Instagram where users are able to connect with their instructors on a more personal level.
iii) Great In-Product Content
Simply talking about a product is not going to cut it if you haven't worked on its features. Thankfully, Peloton has gone the full length to ensure that its video content is slick, beautifully created and high on energy. So for a $2000 bike with a monthly subscription fee, Peloton has given its customers a good reason to invest in the brand and recommend it as well. 
Whether you join a live class or go for one of the recorded videos, there is a consistent look, feel and vibe of a real spinning class. Peloton also brings alive another aspect of group workouts into your home- competition. 
iv) A Social Experience
While taking a class, you can see where you stand on the leaderboard. This automatically serves as a motivating factor. You can also connect it with Facebook and compete with your friends. There's also the Peloton Challenge, which is a fresh set of goals for each month. Once again, this gets the competitive juices flowing. 
Clearly what makes the product click is the very real experience it brings to its users. All of the content is geared toward enhanced engagement. Which means, once you've made the purchase, you won't slip away from your routine like you'd tend to do with your gym. It's taking customer service to the next level by providing a great customer experience. 
Conclusion
While the Peloton customer base is primarily the affluent, its recent marketing has been geared towards making it more accessible for people by providing financing options as well. It is constantly communicating how a one-time payment for life-long fitness is better than paying large annual sums for a gym membership you may or may not use. This reliance on simple math coupled with their elegant consumer-centric design and direct to consumer marketing has made the brand stand out.
The B2C approach is seen through by the brand's promotion over social media pages. By creating a social club out of your workout regiment, it has also managed to create the buzz you need to sell. You know which friends are taking a class with you, you can compete with them, earn badges and what not. It is a brilliant blend of a social experience, high-end technology and a fitness program that makes the brand what it is today.  
By making its employees its campaigners, Peloton knows that the brand stands not just by the one-time sale of its bike but by the continued live engagement it has with its customer base. Users form a personal connect with the instructors and therefore, the brand. So if you're looking for marketing lessons in customer experience and retaining your consumer base, Peloton checks all the boxes.
The growth of a brand is dependent on connecting with its audience and not just in making those sales. And at GroCurv, we understand the importance of keeping your customers at the heart of your campaign. Therefore every strategy is built to ensure that it establishes a lasting relationship with your audience that can outlive other brands.