5 Rules of Infl…
5 Rules of Influencer Marketing That You Must Know as a Marketeer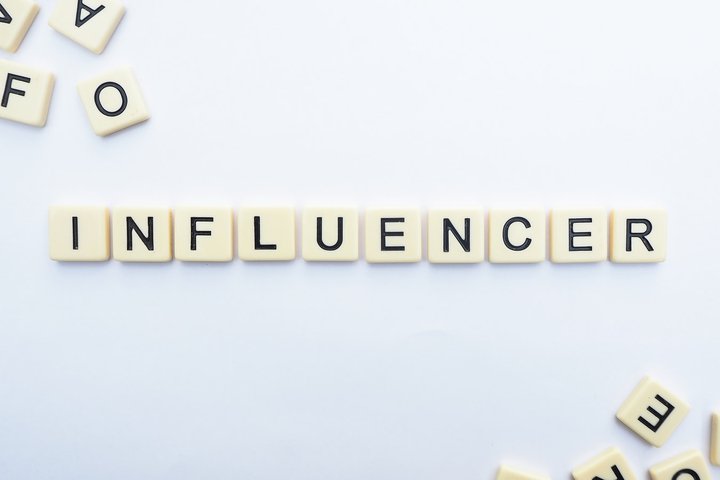 Zeroed in on influencer marketing as a part of your brand's digital marketing strategy? Before you get down to your drawing board to draft the first blueprint, you must know the rules that guide you!
Let's get started.
Select the Right Channel of Influence– If you are a brand which needs visual involvement with the audience; Instagram, YouTube and Pinterest would be your natural choice. If you are more inclined towards generating higher quality content through conversations – Facebook, LinkedIn, Twitter should be higher on your priority list. You could also have a dipstick carried out on these channels to locate your kind of audience or spaces where they are listening actively to brands like yours.
Select the Right Influencers – It is a good idea to study the social presence of the influencers before you select them. Look at the quality of engagement they are able to generate with their followers. If the kind of social conversations they are initiating, are of the nature you would have liked to generate with your brand, go for them. While the number of followers is an important criterion, it is prudent to have a weighted balance of quality over quantity. Find someone whose social page matches the personality of your brand.
For example, The Brothers Buoy produce comedic creative content. Their Instagram boasts engaging posts and beautiful pictures of food, travel, and adventures. They have 11k followers and are growing rapidly. Their content is CREATIVE/ PLAYFUL and closely tied to FOOD and TRAVEL.As micro-bloggers, they are relevant for brands that want to align with the personality of their site.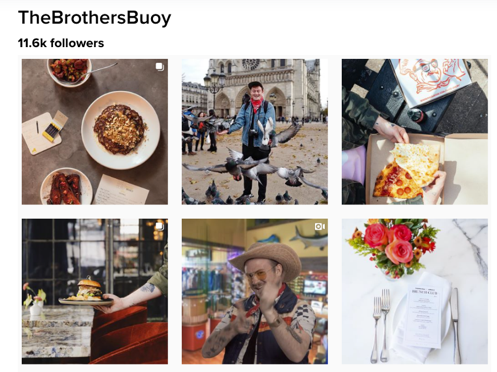 By contrast, Passport to Friday is a travel guide by Chelsea Martin. With 18k followers, she specializes in personalized travel planning for honeymooners and luxury clients. In the meantime, she documents her gorgeous travels on Instagram. The look/ feel of her site is high end, serious leisure. Brands that work with her will not find the right resonance with The BrothersBuoy audience.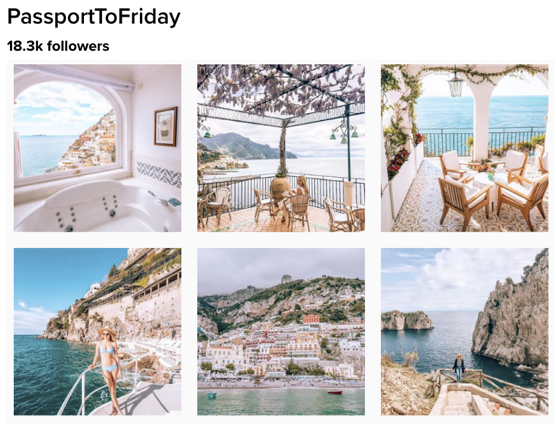 Influencers are not Celebrities– When tying up with a celebrity, you may be casting a wider net without much control over who it is reaching. Whereas, influencers are specialists who offer something unique and have built a circle of trust through word-of-mouth or content appeal. The relationship with their followers is genuine. So, the content you send to these influencers must be in line with how they communicate with their followers instead of just being the brand's voice amplified (as in the case of celebrity endorsements).
Ronaldo here with almost 200m followers. Here his promotion of Nike, got him 5m likes!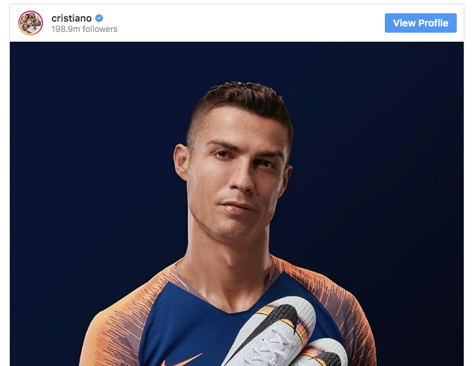 Selena Gomes, with 170M followers garnered 4 M likes for Coach with this post.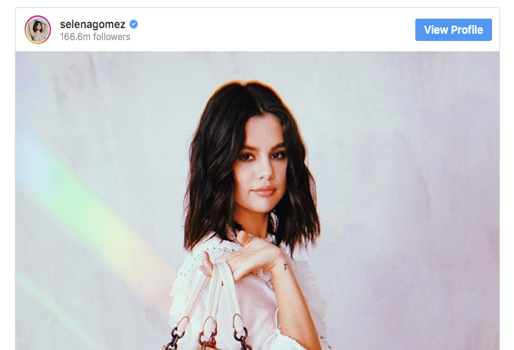 Allow influencers to craft appeal – Influencers are not just information providers, they often offer a fresh perspective, uncover a new angle. It is important for them to understand your brand's key essence and work their charm to woo their followers through different pieces of innovative content. Sometimes, you may not agree with a couple of words or phrases but refrain from micromanaging the content, if the influencer is able to evoke the desired response from his/her followers.
Plan for Contingency – Since influencers enjoy a high degree of trust among their followers, make sure that you have a plan of action for any negative comments, provocative questions or any kind of disagreements on their social channels. This could be an important way of social listening for your brand and an opportunity to address those who are not in agreement with the brand for any reasons. 'Trust' is always the cornerstone of influence, so be available and responsive as the need may arise.
Here are some examples of campaigns that failed. (Refer Olivia Jade/Jet Blue)
Where an Influencer has millions of followers, there is the potential that a campaign worked for many of them, but equally did not work for hundreds of thousands. A sufficient number to create a PR disaster for a brand.
Just like the evolution of human relationships, your brand has the potential to slowly seep into the minds of your users and make a place for itself. History has evidence to show that loyalty takes time to build and we must respect that, among all other facets of influencer marketing. As an integral part of your digital marketing strategy and brand strategy, give Influencer marketing the time, space and budgets it needs to amplify your brand message.
If you are seeking help to draft your first influencer marketing strategy, reach out to us at GroCurv.
Ref: