Account Based M…
Account Based Marketing: Future of B2B Marketing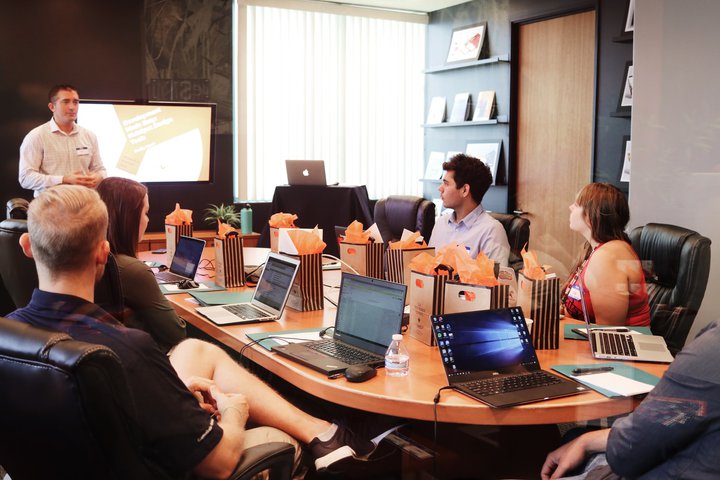 Here's a very interesting approach to B2B marketing which is finding wider and wider acceptance. Account Based Marketing.
The concept of targeting marketing spends on specific accounts, in order to go deeper into an account, understand it better and consequently, position your services more intelligently and relevantly.
In other words, a concept that brings Marketing and Sales way way closer than every before in delivering business revenues. No wonder more CEOs, Sales Heads and Marketing heads are putting their minds and resources behind this new technique.
What Is Account Based Marketing (ABM)?
B2B Marketing is now going into areas earlier reserved for B2C marketing. Where technology is helping B2C marketers micro target, now the same technologies are challenging marketers to micro target B2B customers.
Marketers work to identify the most relevant customer(s) for sales to focus resources on.
They then spend monies to go deeper into an account. Using organisation structures, identifying decision makers. Using their personas, online presence, interviews to understand their objectives, marketers develop and delivering content for these key decision makers.
In this way, marketing is priming these clients for more useful, productive conversations with their sales team.
Marketers are providing more relevant sales tools, client information and product information because of a deeper understanding.
This way, marketers are no longer talking segments of customers, but specific customers.
In fact, research from the Altera group found that 97% of respondents reported that ABM had a somewhat higher or much higher ROI than other marketing campaigns.
Elaborating on the key benefits of Account Based Marketing
Strong alignment between sales and marketing
"According to Forrester Research, organizations with aligned sales and marketing teams see an average of 32% annual revenue growth, while less aligned companies see a 7% decline in growth."
Marketing teams no longer talk segments of customers, or about creative a large top of funnel, for sales and operations to chase down and convert.
This is no longer a business of seminars and collaterals posted to reach a wider audience. It is about gaining specific market knowledge to whittle down the funnel right at the topand invest in it to ensure each top of the funnel opportunity flows to a WIN.
In this way, marketers are more dependent on the sales team for account information, organisation mapping, key decision maker identification. Buyer personas. Content creation is razor sharp. At company level. Not industry.
Greater Efficiency of Marketing spends:
ABM is so targeted with its marketing efforts, resource-waste is limited. In fact, ABM is expected to become a "zero waste" marketing spend model.
There are no wide nets to throw. Just very precise spears aimed at very business relevant fish. The demands on the marketing team with ABM become greater than ever.
Happier customers and more accountable marketing teams
When you start talking very specifically to a decision maker in an organisation, over time and across several mediums; there is a lot of credibility built up. There is a lot of trust and an awareness from the buyer that the seller Is attempting to understand and connect with them at very deep levels. This is very far removed from the impact traditional marketing has on a buyer.
ROI
A 2014 ITSMA survey showed that "Nearly all B2B solution providers that measure account based marketing (ABM) ROI find that ABM delivers higher ROI than other marketing initiatives."
When Consumer Marketers spend on media, they are targeting millions. When B2B Marketers spend on their segments, they are also spending significant sums and trying to reach the widest possible audience in that segment. Again, traditional methods focus on "top of the funnel"to be wider. Consequently when the final sales come in, there is this question of justifying marketing spends.
Where was it targeted, how was it spent, why was it not more efficient.
With ABM, there is agreement on the few accounts being targeted. And after this step, all the monies are spent in a far more concentrated way. Continuous interaction between Sales and Marketing ensures better spends within these accounts, but leakage to accounts outside this TG are zero. Evaluating end results are thereby much easier.
A good graphic shared by the drift.com explains how tradition and ABM differ.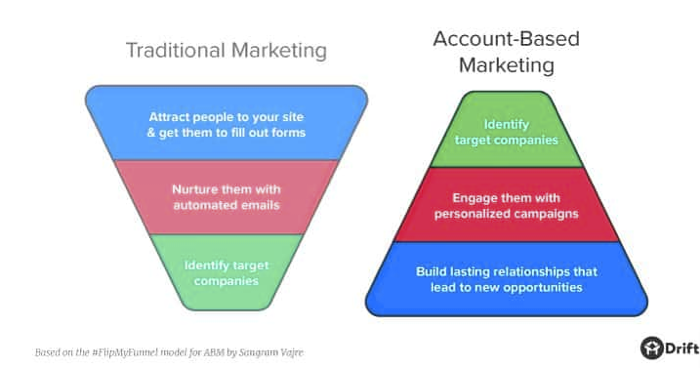 Conclusion:
This is only the first note we are writing on the subject and don't see a conclusion beyond asking all B2B Marketers to reflect and assess how this approach could work in their companies.
Over the next few weeks, we look to share other perspectives and case studies to go deeper into the subject and see how brands can transform revenue growth with a new philosophy of marketing.