BOMBAY SHAVING …
BOMBAY SHAVING COMPANY – The Story of Provenance Marketing

With a degree in engineering and not much to look forward to on the career path at McKinsey, Shantanu Deshpande, an NIT Nagpur graduate quit his job to cater to the urban Indian men. While it seemed like a whimsical decision to many, his move was guided by meticulous research and extensive discussions with industry experts.
The Humble Beginning
The idea was triggered by a chance talk with a childhood friend Manu, who told Shantanu about the sudden outcrop of men's grooming start-ups in the US, that were challenging the likes of PRO and Gillette.
Recognising the potential of the underserved men's grooming niche, Shantanu roped in his buddies and associates Deepu, Ronak, and Rohit – each bringing their own expertise and knowledge to the table. The quartet surged ahead with a passion for grooming and they flaunt this fact on their website saying -
Because we don't just want to look good, we want to feel it!
The First Taste of Success
The founders proudly claim that the first 500 customers came purely through word of mouth. They attribute this mainly to their focus on user experience. Being new around the block, the Bombay Shaving Company had little to offer in terms of provenance. Understanding that their customers were paying top dollar for a product that was new in the market, they decided to give the consumers a great unboxing experience. Their strategy paid off when customers began sharing their experiences on social media and other channels – and incidentally drove up sales.
Parallelly, the quartet leveraged their contacts with editorial teams of magazines like India Today to promote their products – even featuring on the cover page of India Today – thus gaining some much-needed visibility.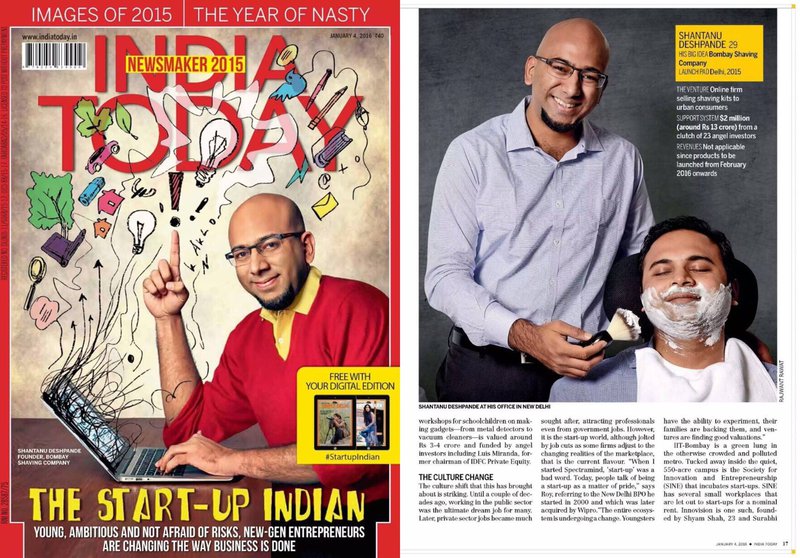 Spreading the Beard's Word
Six weeks into the launch of Bombay Shaving Company, the founders began publishing advertisements on Facebook – to which they attribute a significant part of their success. Their posts challenged traditional customs with respect to men's grooming and tending to beards – which was, until then, merely a part of men's daily toilet routine.
Parallelly, they ran focused campaigns – such as the Father's Day Campaign – in which they targeted fathers and sons and even, women. The strategy paid off as people responded to the challenge in understanding the need to tend to beards. The Father's Day Campaign evoked latent emotions and drove sales. "We got nearly 100 orders from this effort and nearly 25% of them had 'DAD' engraved on the razor," says Munot.
Their latest Father's Day Campaign - #DadLogic
Old Razor with a New Story
Unlike many big brands, the Bombay Shaving Company decided not to involve a celebrity ambassador in the early years preferring instead that their ads and campaigns be shared by a smaller, yet loyal group of customers who genuinely appreciate their products. With this in mind, they decided to launch single blade razors – a near outdated shaving technique – with a genuinely heart-warming story about pre-shave, during-shave, and post-shave routine, highlighting the care that should be taken while shaving. This stemmed from the founders' belief that shaving is not merely about using a good quality razor or blade but also about skin sensitivity.
Looking into the Future
So far, the company has been marketing its products through e-commerce and social media; but otherwise, maintaining a low public profile. Until 2018, they had targeted 500 brick and mortar stores. In future, they plan to target another three to ten thousand stores. To this end, they have raised a funding of USD 9 mn (INR 45 crore), which will also serve to repay 30 exiting angel investors – including partners from Shantanu's erstwhile employer, McKinsey.
The spectacular growth of the Bombay Shaving Company in just four and a half years has shown that quality marketing provides a competitive edge. Grocurv wishes them luck in all their future pursuits!