Social Listenin…
Social Listening: CARS24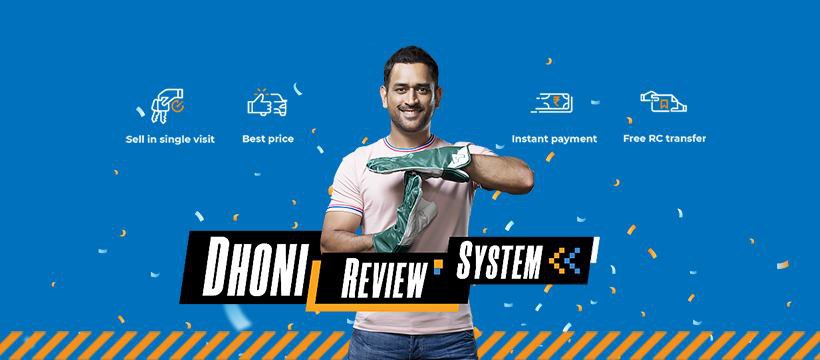 Founded in 2015, CARS24's mission is to revolutionize the way used cars are sold in India. CARS24 creates an efficient and reliable way for car owners to sell their used cars at a reasonable price. Since its inception, CARS24 has grown at breakneck speed, becoming the default car selling (and now also car buying) destination.
Promising speed and the best price for your cars it has won the confidence of millions of households.
Recently, CARS24 announced it had raised $100 million as part of its Series D round of funding.
As part of its this round, the pre-owned car company announced a strategic partnership with the former captain of the Indian cricket team, Mahendra Singh Dhoni, as its brand ambassador and one of the investors in the company.

As part of our weekly social listening exercise, this week we look at how CARS24 has used social media to establish connect with its consumer segment.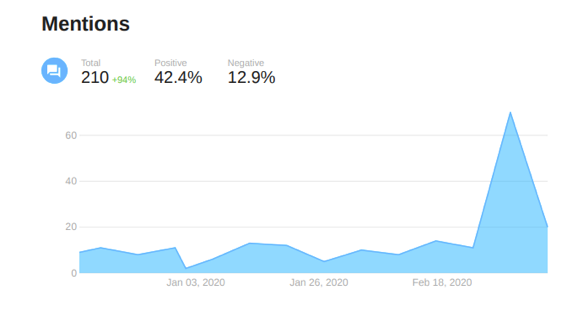 In the past 90 days, CARS24 had 210 mentions in social media- reasonably busy for the segment. These posts reached 12.6 M consumers in its TG, a very good reach for the category in this short period.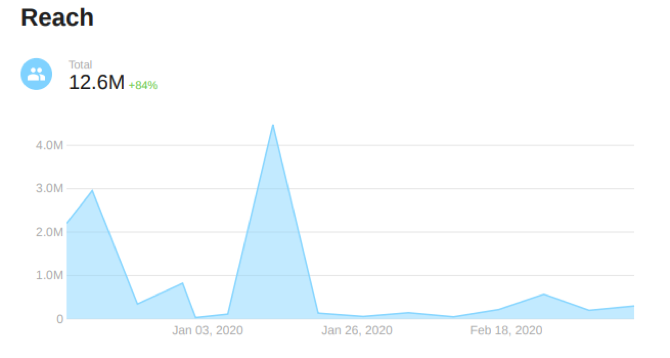 What stands out is the "net preference score"for such a loud and high involvement brand- at 30%, with a solid positive score of 42%. Indicating a very high degree of satisfaction and consequently word of mouth.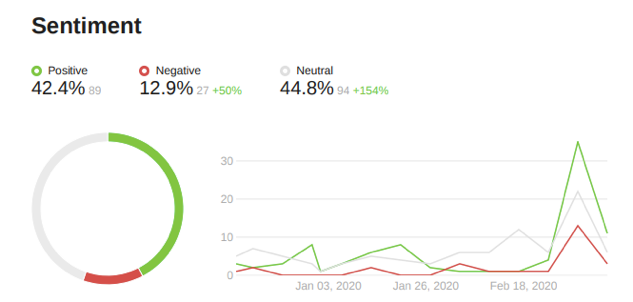 The brand is definitely active across social media, and we will explore each in our attempt to describe how well each platform has been used.

Youtube:
CARS24's Youtube channel is a stocked with relevant content. However it doesn't seem to be a very high priority for the brand. The content is infrequent, and doesn't seem to be well promoted. Given its huge media spends, this muted Youtube presence is a surprise. Well produced customer testimonials could add greater relevance to this channel.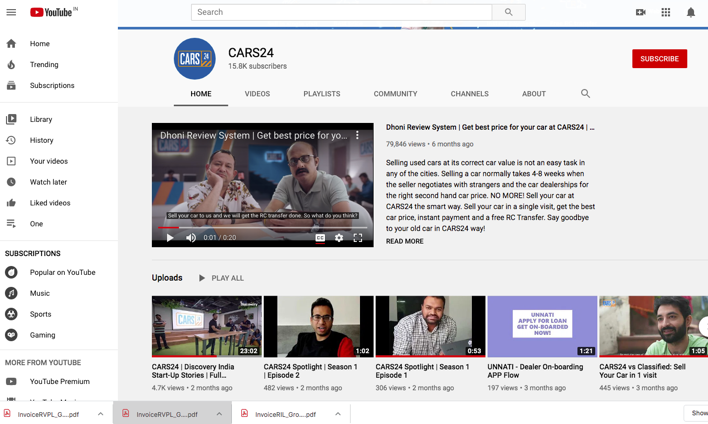 Twitter:
Twitter is a tricky platform. Frequency and relevancy of tweets drive engagement. CARS24 has used the platform as an extension of its social presence rather than address the medium with a particular point of view/ strategy. Twitter, because of its focus on frequency allows brands/ people to establish their personality over a rather quick period of time. (Intellectual witty/ sarcastic/ updated). With Dhoni as its brand ambassador, could the brand have done more in his typical "straight talking" style.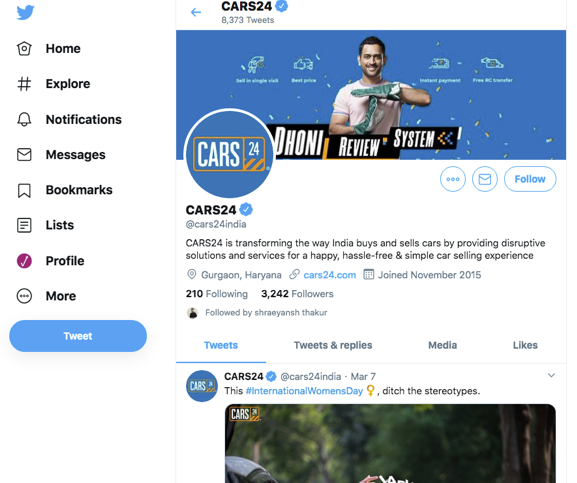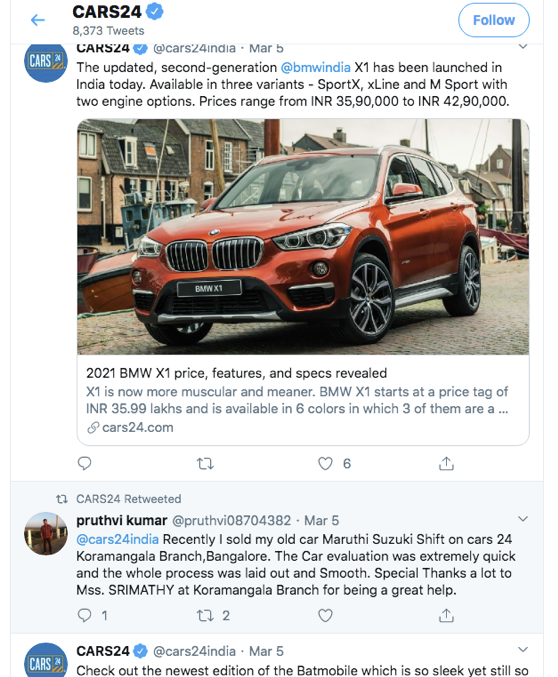 Instagram:
The challenge is its simplicity. Instagram is out visuals. Its such a vibrant place, and again so easy to post that it is difficult to draw attention to your brand unless there are stand out visuals/ personalities that are consistently drawing attention. The message on Insta is often the image.
We contrasted how CARS24 uses Insta to few other pages in the category to highlight the impact strong visuals and consistency can make to the page.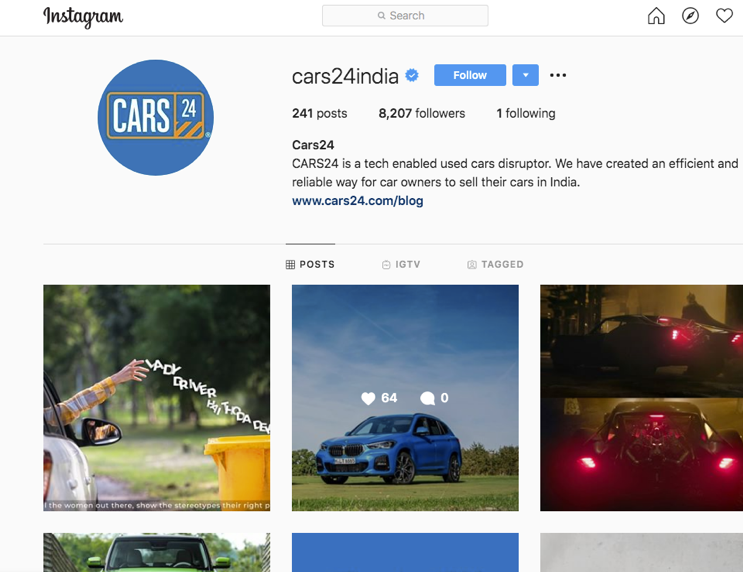 Fine Listings: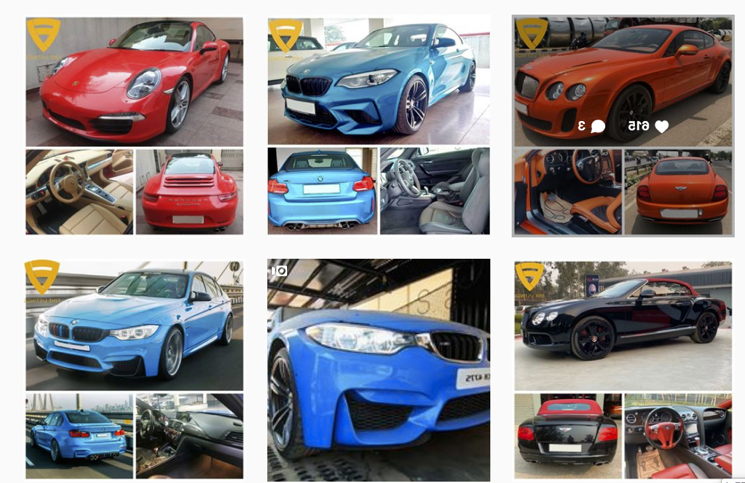 Exotic.Cars: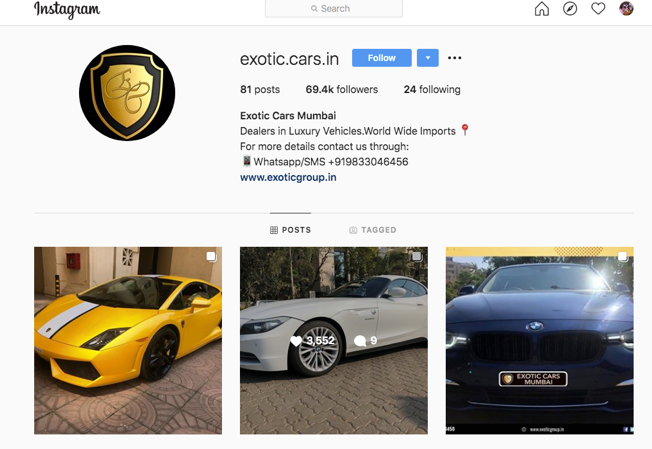 Conclusion:
A brand as well known as CARS24, with amazing properties, word of mouth testimonials and a brand ambassador of the stature and persona of Dhoni, appears to be quite muted on social media.
Even this low key presence has the ability to reach 12 Mn people in a quarter is a very powerful testimony to the brand salience and strength. Using the wide repertoire of content that the brand creates, and has the ability to create (user testimonials and stories) gives the brand huge potential to engage deeper with its consumer segment. We would love to see a more extroverted brand presence soon.