How Ikea's Indi…
How Ikea's Indian Instagram handle is Minimalist but Maximized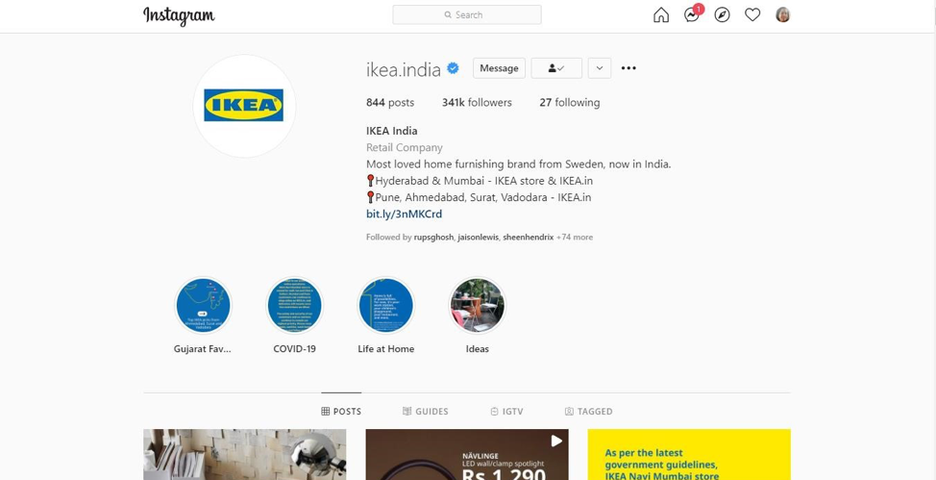 When Ikea announced its foray into India, there was more buzz on social media than there was for Deepika Padukone's next film. Even if you hadn't done a single DIY furniture assembly in your life, you were still hash tagging Ikea and secretly looking up DIY kits. Well, that's the Ikea impact for you. And that's powerful digital marketing for you as well.
Even if you own only an Ikea pen stand, you're most likely a follower on Instagram. Between posts of bedroom styling, tablescapes and children's recreational options, Ikea has created a different image in the Indian scenario for itself, with its digital marketing on Instagram.
The entire approach to social media marketing is always considered after taking into account the various challenges a brand foresees. What were those for one like Ikea when it forayed into India?
Ikea's Indian Challenges: The big question was always How Will Indian Consumers Take to the DIY Model? While global markets for Ikea have taken to DIY like fish take to water, it remains a challenge back home.
Secondly, browsing through any of the international Instagram handles would familiarize you with the typical muted palette that Ikea owns. Scandinavian hues that promote home products to blend in rather than to blaringly stand out. How much will the Indian Instagram addict take to it, vis-à-vis the bright, bold and vivid Indian décor leanings in tier I and tier II towns? This being a case in point, since Ikea's Indian stores are all in locations like Hyderabad, Pune, Ahmedabad, Navi Mumbai and Surat: all known to have a penchant for techno-colored pallets.
Maintaining its subtle, minimalist avatar on Instagram – rather than taking on a gushing one – was also a challenge to be considered.
And, finally, the price point. Who would know that you can dress up your table for Diwali, tea lights and all, within a budget of Rs. 1000? It was quite safe to assume that Ikea would be pegging it reputed products way higher than your local Big Bazaar outlet. But no, Ikea's price points bring added smiles to consumer's faces with its very competitive pricing.
How Ikea India's Instagram handle overcomes these challenges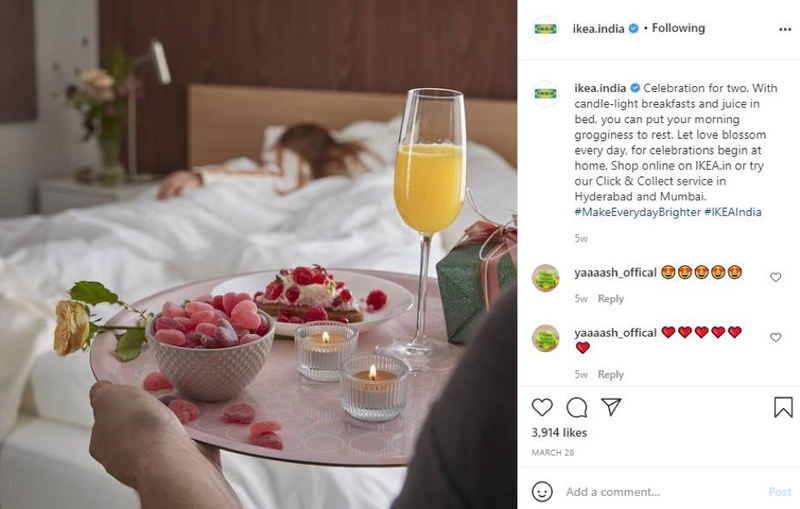 Digital marketing is successful when what your communication enables a productive and profitable connect between you and your target group of consumers.
When it comes to DIY, Ikea plays it subtly via online and offline communication. It does have an option of sending professional help to assemble your file cabinet. But, it also displays the joys of assembling your furniture on your own by collaborating with influencers and posting videos of them in the process.
With #Ikeahomestories, the brand creates episodic digital marketing posts that enhance the joy of bringing Ikea into the home as well as building a room as per your dreams on your own. This subtly brings a consumer from a buyer's role into a creator's role – one that anyone with a smart phone wants. Once you build your desk, you are surely going to take a pic and proudly post it onto your Insta handle. Showcasing the young Indian consumer in DIY bliss also communicates the need for a change and shift in consumer behavior. Ikea joy propels DIY attempts.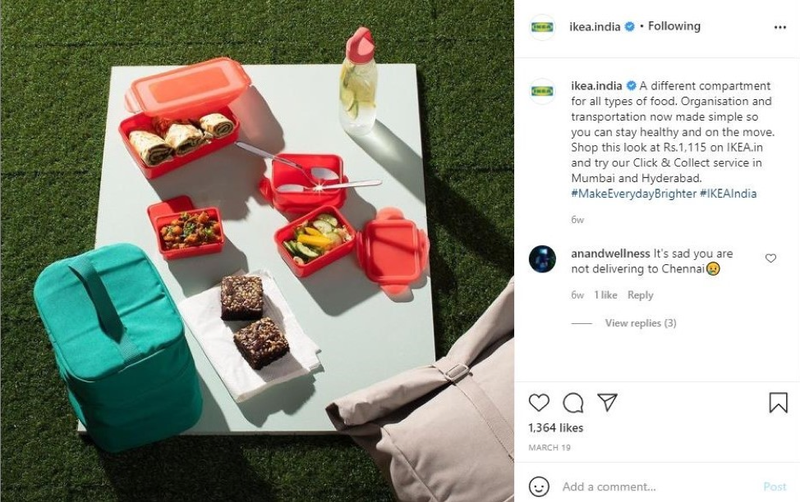 Now let's consider the hues dilemma. Scroll down Ikea India's handle and you will notice that the brand still keeps it largely muted and mild. That has helped to cut the clutter in home décor digital marketing and that has created its own unique appeal as well. Well versed with its own colour tone, Ikea Insta posts just balance colour elements in a single shot and manage to create a subtle but strong appeal. This also maintains the aspirational factor. Add to that the 10k+ strong #MakeEverdayBrighter hashtag. We're talking over 2.5k likes per post.
As for price points – if you haven't heard it from your neighbor you won't miss it on Instagram. Ikea plays it well by sharing the price points straight up in its post creatives. These drive home the point of affordability and appealing products to its consumers. You can have that luxurious and calm bedroom entirely fitted out well within your budget.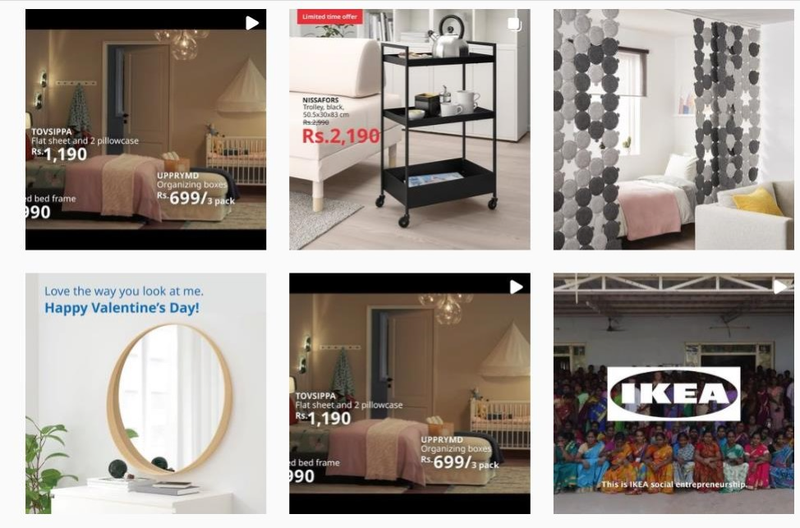 Standing at a 341K followers with just 844 posts, Ikea India's handle is a case in point for using a platform in sync with the brand DNA, contextualizing communication and keeping a retail brand alive despite market rigours of lockdown and sales slack.
This could be well within your reach too. It is just a matter of investing in the right people. Get in touch through GroCurv!