GroCurv has bee…
GroCurv has been featured in Inc42's 30 Startups To Watch list!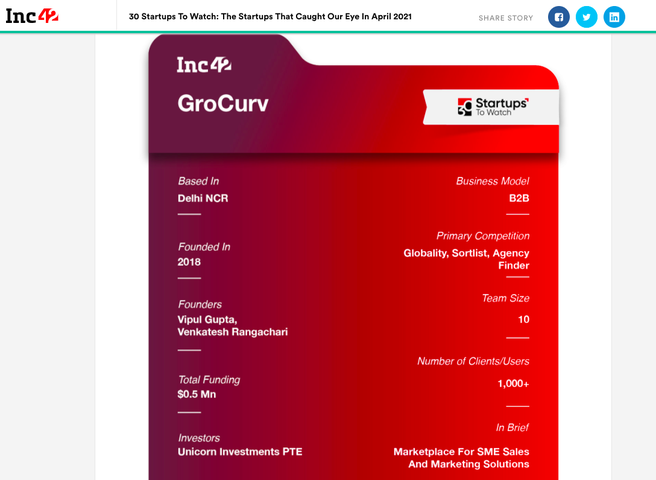 Why GroCurv Made It To The List
India has a $5 Tn goal for its economy, and much of this development will depend on the millions of SMEs looking for ways to grow even in Covid times. GroCurve cofounders had earlier worked in sales and marketing for large enterprises and then started an SME-focussed consulting company called Hypersonic Advisory. For more than two years, they interacted with 250+ SMEs operating on the demand (clients) and the supply sides (agencies) to realise that services procurement for small and medium businesses had always remained an unaddressed but large and profitable market.
Therefore, Delhi-NCR-based GroCurv was set up in 2018 as a managed marketplace, helping SMEs find the right service agency partners for sales and marketing, digital marketing, PR and branding, among others. The startup has developed a tech platform that enables clients to create solid project briefs using a dynamic scoping engine, source the best-fit agencies and curated service providers, and access collaboration tools and workflows to negotiate, make contracts and monitor project executions. Project payments are 100% secure as these are done through an escrow arrangement on the platform. Plus, the company offers several monetisation models around the marketplace. Currently, there are no subscription or registration fees for clients or agencies.
The marketplace has recently integrated multiple APIs like ZOOM and WhatsApp to ensure a smooth workflow with real-time collaboration and transparency that will benefit clients. It aims to become the go-to marketplace for SMEs and agencies and wants to take its solutions to global markets like the US, the UK and Southeast Asia.
Source: 30 Startups To Watch