Digital Marketi…
Digital Marketing on Facebook: Bruised Passports - The Travelling Couple that Wants to Take you Along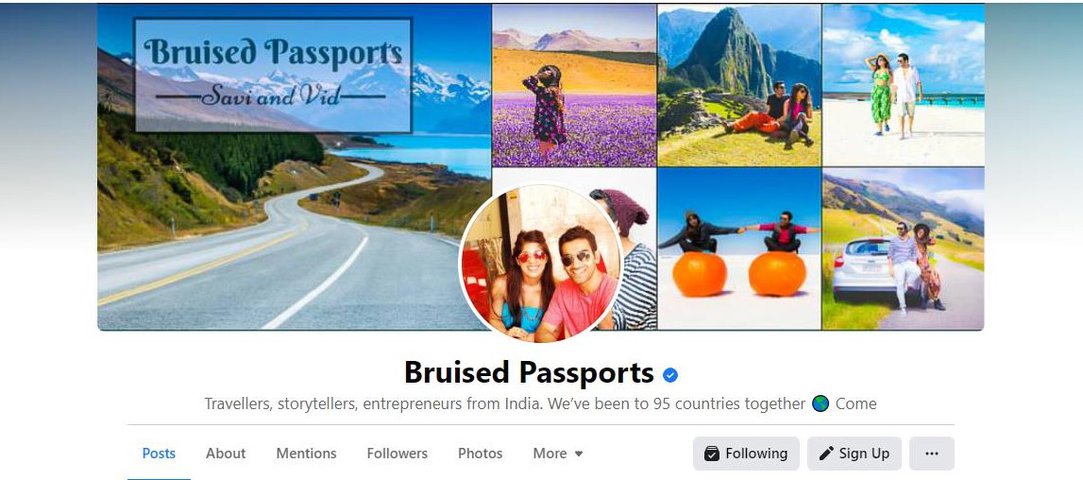 Try typing "bruised passports" in your search bar. You are immediately hit with a drop down of suggested terms - which is a mind-boggling list of global destinations. From Sikkim to Sydney, this brand is know-it-all in global travel. And a know-it-all who's there because it has done it all. With over a decade of digital marketing best practices under its camera belt, Brusied Passports is a great case study in successfully using a platform like Facebook to build a brand.
What is Bruised Passports?
What started as the online chronicles of a travelling Indian couple – Savi and Vid – is a go-to on Facebook for any travel ideas, inspiration and tips. They have visited over 95 countries and they are still footloose. Scroll though the Facebook page and you know why this next-door neighborly influencer duo is worth your Like and Share.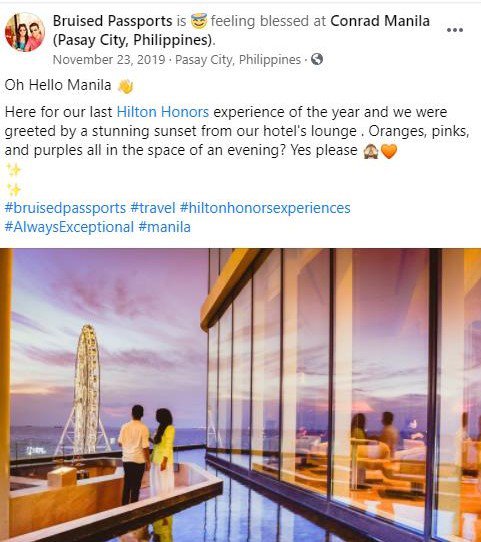 When you do hit Like, you're joining 110k others around the world who are mesmerized by the pictures, videos, posts and information being shared so creatively.
Creative content is the mainstay of digital marketing, which we gradually learnt with Facebook, before the other platforms joined the bandwagon. There are travel bloggers and photographers all over the place. Yet, it's the creatively designed content that separates the wheat from the chaff. While there are lengthier blog posts on the Bruised Passport website that tell you where the couple has visited, the selection of content posted on the Facebook page cleverly drives the traffic to the site as well as piques interest and engagement on social media.
USP of Facebook content
The USP of the content on Facebook is definitely originality and simplicity. Again, hallmarks of digital marketing - only to be acknowledged when the subject began to be vastly analysed for marketing and sales. The destinations could be anywhere from outskirts of Mumbai to the north-African plains – the photos and videos are visually rich and attractive while the copy remains simple and intelligible.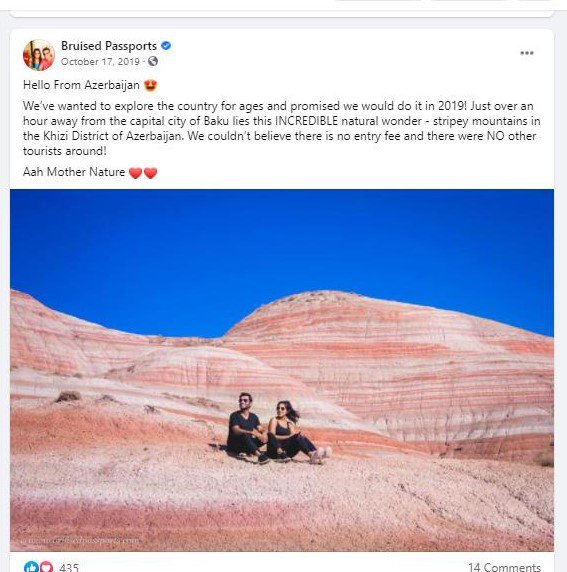 The effort to be able to reach out to every kind of traveler – local to international, budget to luxury – is seen in the humble writing that reaches out to viewers on a personal level. The approachability factor is seen in making travel of such nature possible and practical for anyone who aspires to.
There is also a balance of Indian and foreign locales so as to appeal to every kind of follower. It does not alienate a follower by repeating exotic European locale after locale. Rather, a mix of Rajasthan, Rome and Russia makes one see how exciting travel can be for anyone who wants to have, well, a bruised passport.
Secondly, the timeliness of posts is something key. Honeymoon destinations at the onset of wedding seasons in India, all Covid dos and don'ts for travel into Indian cities, working out a summer vacation for the family to remember – these are all posted as per a well-planned social media calendar. This is also key to a sound and sustainable digital marketing campaign.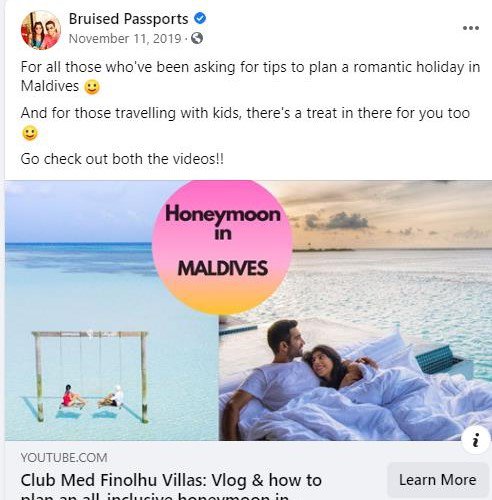 Visually pleasing posts surely become every day thumb stoppers, and Bruised Passports managed just that for each day of the last 10 years and 95 countries it went to.
Building Bruised Passports
The brand is born the day its name is decided. But to build and bear it into one to contend with takes some time. Remember, organic reach was a thing back then, it isn't anymore. Bruised Passports posted consistently and creatively to reach where it is now.
Over years and years of posting travelogues with the world, recognition came not only from amateur followers but also professional names. Today, Savi and Vid collaborate with multinational corporations for brand endorsements, travel providers, hotel chains, and so on. They also monetize their content, speak at public events and at conferences, to promote their brand online.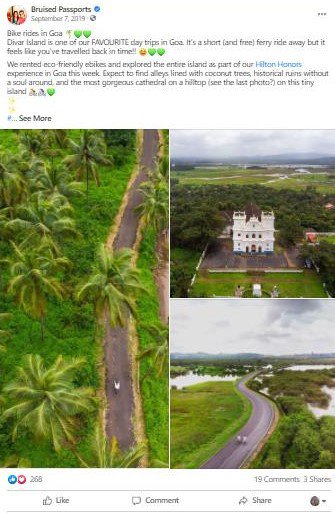 Going beyond the niche
Yes, travel is the major chunk of content and DNA here. But what happens when there's no travel? Like now, with the Covid 19 pandemic arresting all globe-trotting options? Bruised Passports has circumvented the issue by posting lifestyle-oriented posts, behind-the-scenes videos, throwback posts and more such.
Investing time wisely, the duo is sharing personal facets from their lives together. How they're involved in social issues, how they're spending time with their families, moving homes and just personal beliefs and opinions – these count as valuable content for their Facebook followers. It enhances and creates substance to humanize a brand. Facebook being the original of social media, or user-generated content, it is the human element that has many takers. Brands that tap into this potential – no matter via pics, videos or simple copy – have a long way to go.
With its bruised passports, the brand Bruised Passports has circled around the world travelling to several destinations. With a Facebook feed like theirs, it's only natural to wonder where they're headed next.
If this reads delightful for you, yet you are not sure how to achieve this for your brand, trust us to find you the best marketing partner. Hop on to GroCurv now!