Facebook Case S…
Facebook Case Study – Heart & Soil: Travelling for Pleasure and Purpose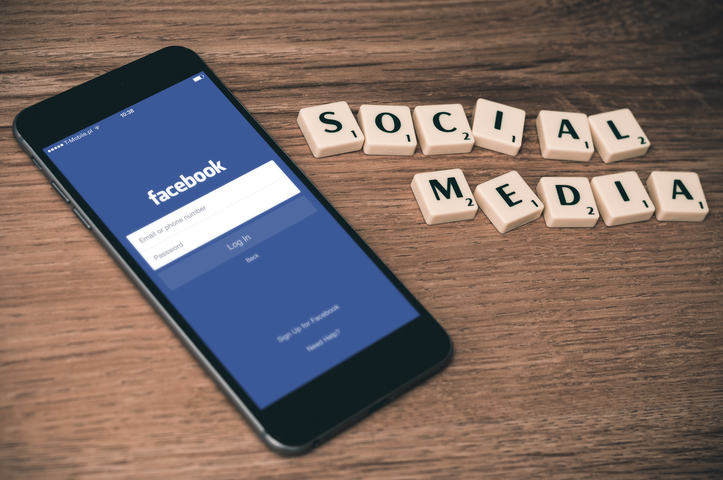 Facebook is a place which has given so many brands their spots under the sun. It has also given so many causes a stage to speak from. As many as there are consumerist brands, there are brands that are working towards causes that champion greater common good.
From gender rights to child protection and climate change – social media vehicles like Facebook have been the engines to promote change.
Heart & Soil: A champion for change
Travel can be responsible – a notion that gained prominence a few decades ago. Thanks to social media, it got its much-awaited push. One such brand pushing it nice and strong is Mumbai-based Heart & Soil. It was started by a young mother, Nehal Shah, in 2016.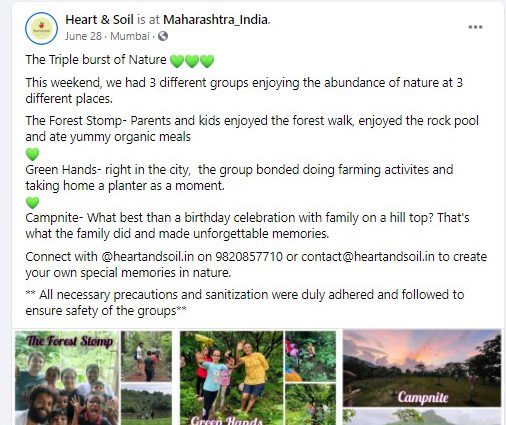 Heart & Soil is a travel company, with a difference. It focuses on experiential nature travel, encouraging outdoor experiences that inspire families. The inspiration being to connect with nature and to realize the inherent values of co-existing with it. The brand promotes and protects the idea of sustainable living. Awareness is created one trip at a time, as every traveler comes back enthused with a closer bond to the environment and nature at large. Over the last 5 years, Heart & Soil has used the better parts of social media to promote its travel plans, its activities and its principles.
Facebook as the Face of Change
Being a no-charge medium made Facebook the go-to for startups and brands on shoe-string budgets. Digital marketing attracts brands like Heart & Soil who curate small but significant experiences. These are localized to farms, hamlets and villages in and around Maharashtra. So, the trips rake in more in terms of value and impact rather than monetary benefits.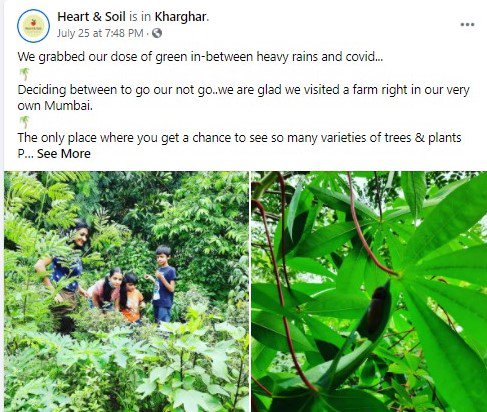 It's no wonder then that Facebook posts are where all the promotion started. Simple, attractive image posts started doing the work of attracting the eye of families who looked around for engaging trips with their young children. Facebook event listings also helped garner more attention, as these were posted every week, well in time for weekend searches by local Mumbai residents.
As trips were signed up for and gave people much more than their money's worth, it became a matter of organic growth. Each traveler was a happier and a more content soul on his or her way back. Contentment means clicking. And so, photos and posts detailing the meaningful weekend that went by in the serene lap of nature were out there, tagged and all. This created a steady interest and following on Facebook for the Heart & Soil brand.
The Niche that Never Changes
Every digital marketing master class eggs a brand to find the niche. Once found, the niche must be stuck to. It's impressive to see how Heart & Soil has maintained its chosen niche, all along its calendar of travel events. Come monsoon, as there are off beat treks and trails that create family fun. This includes sustainable meals at a farm and learning about rainwater harvest. Come harvest season and you have a chance to go strawberry picking at a nearby orchard. Come meteor showers and you can vouch for an unforgettable astronomy affair curated by this brand. Sticking to one trail and walking its course – that's the marketing angle here.

Engaging with Social Media Changes
Facebook has constantly been tweaking and innovating with its products. These have been welcomed by small brands, as they freely promote their activities on the platform. Heart & Soil's Facebook stories, reels and video uploads are endearing. They consistently promote not just their activities (that are now online) but also knowledge-sharing endeavors and small achievements.
As the brand sits out the pandemic impact, it's adding value to its name and keeping itself top of mind for its followers. It is patient and self-sustained, just like nature.
Keep track of startup success stories with GroCurv. Do connect if you want to create and promote your own niche via curated digital marketing strategies!