Le Farm Luxury …
Le Farm Luxury Farmstay: Suitably Social, Superbly Sustainable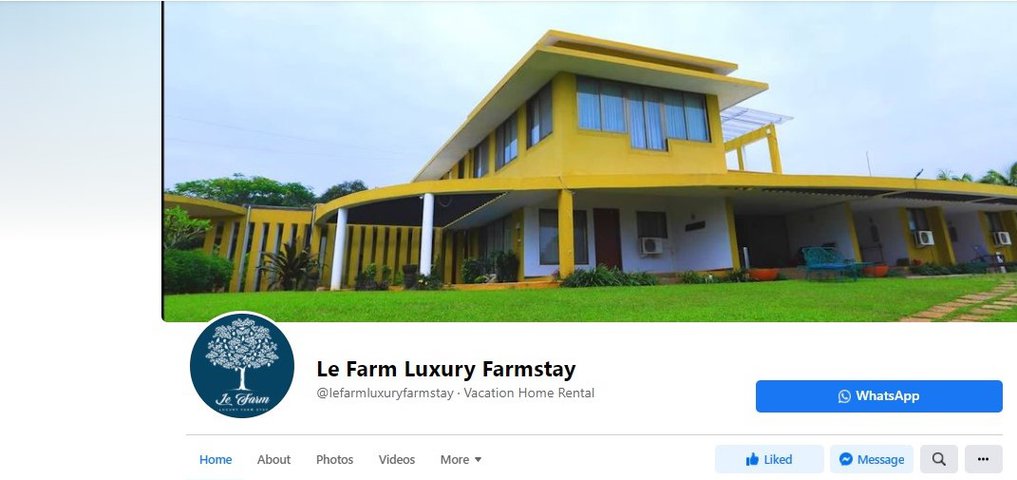 Social media like Facebook is filled with posts by homestays, getaways and villas inviting holiday-goers to book weekends away from home. Work-from-Home has slowly given way to work from a home-away-from-home. What's great is the opportunity for promotions that platforms like Facebook can give to brands like these!
That's the treat that social media gives to startups across the sectors. Holiday homes are typically low-budget options because they don't have the overheads of large-scale hotels. So direct exposure on social media is a must-do for digital marketing activity.
Le Farm Luxury Farmstay at Kamshet (outskirts of Mumbai city) is doing a great job of garnering praise and following on Facebook, thanks to regular online updates by owner, Shivani Borade Shah. A young pilot-turned-farmer, Shivani is at the helm of affairs at this sprawling holiday villa on a farm.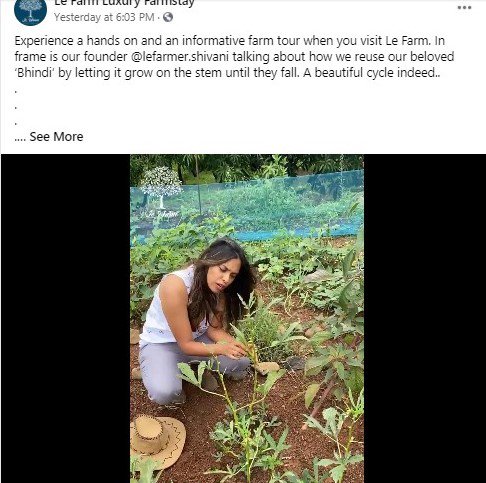 Le Farm = Le Life!
Complete with unending vegetable growth, fruit orchards, streams and sky, Le Farm creates enviable posts, day after day. But these aren't just random posts that are taken and posted any time of the day. It took much social media strategy and heart to create the admirable 7K followership.
Slowly but steadily, close up shots of recent harvest, of food cooked from the farm's bounty and of rural experts who come together to make it all happen – are attracting the eye as it strolls across one's Facebook timeline.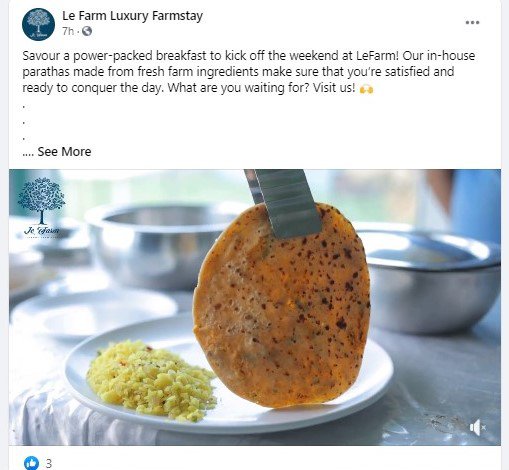 The most endearing aspect is not just the highs and the wow that get visibility. Rather, it is the lows and the blues that also get showcased. For instance, the solitude brought on by Covid-19's lockdown or the loss of crop by heavy downpours. It's all a mélange of daily ups and downs that reflect life that create a reality link for Le Farm's Facebookfollowers.
Niches take it up by Notches
In the world of digital marketing, it's not always easy to find your brand's niche in a world of heavily occupied niches. Yet, trying various aspects and then finding the one that sustains a brand identity is a winning strategy.
What Shivani has done to create awareness of her brand as a luxury homestay is to portray as one that is also walking the path of sustainability. All the Facebook communication is weaving in the enthusiasm for a responsible tourism, luxury with a purpose and sustainability as the root of leisure.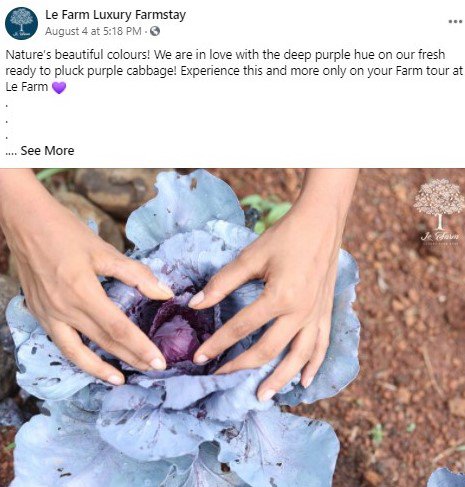 She makes it a point to engage viewers with real-time rain through Facebook Lives, tactile pleasures of plucking a season fruit with Insta reels or awareness infographics on Facebook Stories. So it becomes an all-out and all-inclusive branding exercise that eventually seems second skin to the brand itself.
For startups out there, here is a lesson in taking personal interest in your new brands and leaving a little bit of your personality in there when it has to speak to the world at large.
If you're a travel startup and you need some digital marketing boosts, do connect with us at GroCurv for customized strategies!