Sugar Cosmetics…
Sugar Cosmetics: Getting Sweeter By The Day

The Indian beauty industry has really glossed up. In the last decade, there have been many players who are smoothing over the cosmetic experience for Indian women.
SUGAR Cosmetics is one brand that has tasted success ever since it started its journey in 2017.
It has reached the 100-crore revenue mark in just four years. This is something to applaud, considering its transition from online-only to retail mode, as well as the pandemic that thwarted physical sales since March 2020.
What has given SUGAR Cosmetics the bright shades in the color cosmetics industry? A couple of smart marketing moves are noteworthy in this startup's road to recognition.
Digital marketing that rides the waves
New age brands capitalize on new-age sentiment, demands as well as new-age technologies. SUGAR Cosmetics has been reaching out to over 10 lakh app subscribers since its launch in November 2019.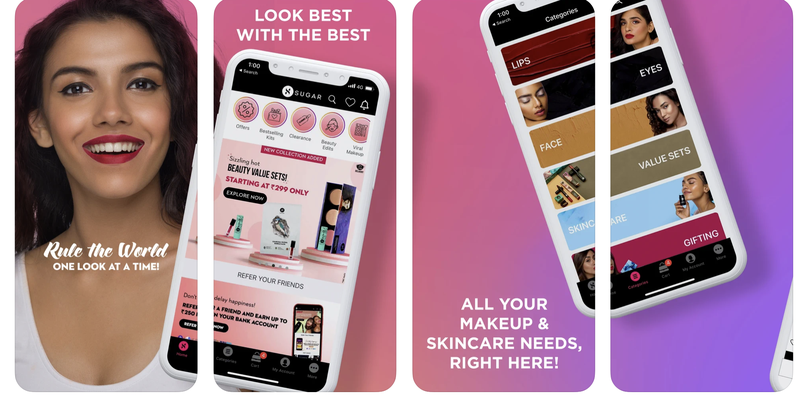 From 2015, it began with an online store front on Shopify. The website receives over 2 million unique visits each month. It is truly one of India's largest digital-first brands. The app and website remain straightforward and functional. Yet, they together drive almost 50% of the online revenue. A coherent digital marketing strategy early in its journey was extremely critical for the brand.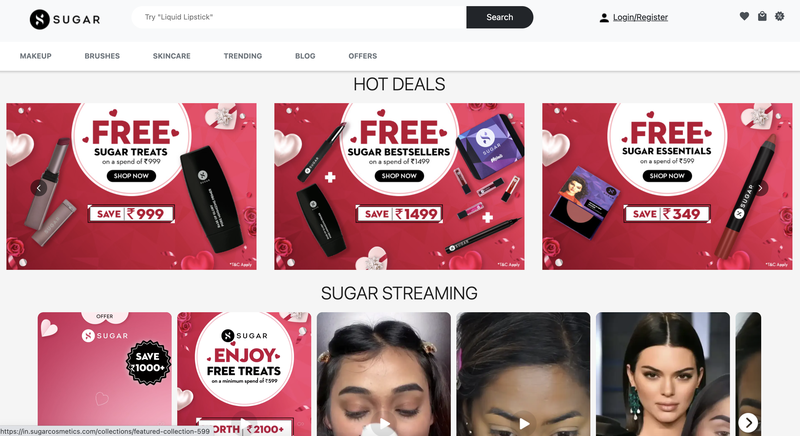 Realising that its core audience was moving online and engaging online, the brand ensured digital marketing was central to its brand communication. As interesting is their social media marketing strategy that has been engaging micro and macro influencers to promote their products. Specifically formulated for Indian skin tones and Indian climatic conditions, the brand ropes in prominent Indian ladies to endorse shades of long-lasting lip colour, easy everyday eye liners and many more products that have actually broken away from conventional consumer patterns. Engagement on social media also extends to topical creatives, social interest campaigns and tagline challenges for followers. All with the gratification of better quality, better variety and better priced products.
Accessible Pricing
One of SUGAR Cosmetics' USPs is its international standard of manufacturing. The "Made in Germany" tag sure received the attention of local ladies. And more so did the local-friendly pricing. It is conscious of its primary target group of 18 -25 years – a demographic that wants the freedom of choices with the liberty from spending worries. This was a market under-served by the existing cosmetic brands who were either mass-y or ultra-upscale. Regular discounts, online deals, boxed deals and so on enable the SUGAR customer to enjoy premium products throughout the year, including during festive and wedding seasons.

Contouring around the Consumer
Even with celebrity endorsements, SUGAR has kept it real with relatable influencers promoting their products. The SUGAR customer was found to be opinionated, vocal and rooted – this is exactly how all promotion and branding is driven.
Packed for Major Pouf
When SUGAR launched, most packaging of lipsticks and eyeliners was homogenous. It was understated packaging that only spoke through a stray logo. SUGAR came with bold graphics that caught the eye and stayed in consumer memory. The brief to its design partner was "thumb-stopping packaging" and the brand has achieved it across the board of color cosmetics and face care products.
The Content Marketing Finish
SUGAR has recognized the significance of content marketing as a legitimate marketing strategy that maintain customer loyalty. YouTube videos that gain easy 800K views and a blog on the website that promote wellness over beauty, the brand is in constant touch with its consumer base. This indirectly drives customers for repeat orders as well as to try out new products and combos. New age brands must use digital marketing and social media creatively.
The beauty of a brand like SUGAR Cosmetics is its rootedness in its consumer's needs. It can very well be said that after judging market trends, the brand has set some trends itself too. That's what makes it an Indian brand worthy of praise.
Read more marketing strategies on GroCurv.