Making a Differ…
Making a Difference, One Cup of Tea at a Time: The Growth Journey of Vahdam Teas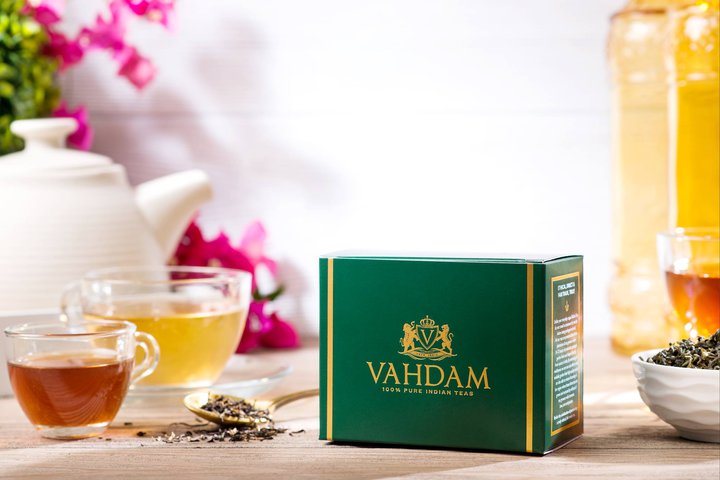 If there is one thing Indians are truly passionate about, it is undoubtedly tea. Grabbing a cup of 'chai' before uttering 'hi' is a morning ritual in every household.
Other than being a tea-loving country, India is also one of the largest producers of regal quality tea after China. Assam, the North-eastern state of India and the biggest tea-growing region, can be credited for driving India to attain the world's top-most position for decades together. In fact, the market size of tea amounts to about USD 15,988 mn as of 2022.
Several local and international brands made their way into this highly competitive and conventional industry, without much success.
Vahdam Teas, a brainchild of Bala Sarda, is one that made a mark.
The 29-year-old fourth-generation entrepreneur and tea pioneer is the first to establish the country's largest digitally-native, global wellness brand by making the finest teas and superfoods available to consumers in over 104 countries.
What is interesting is that the New Delhi-based tea brand first ventured into the market with merely loose-leaf teas, including green tea, black tea, white tea, and oolong tea among others. Now, it has over 175 SKUs in different markets consisting of pyramid-tea bags, gift sets, teaware, drinkware, assortments, and superfoods. Guess what? Globally-renowned celebrities such as Oprah Winfrey, Martha Stewart, DeGeneres, Mariah Carey, and Chris Pratt bank on Vahdam teas.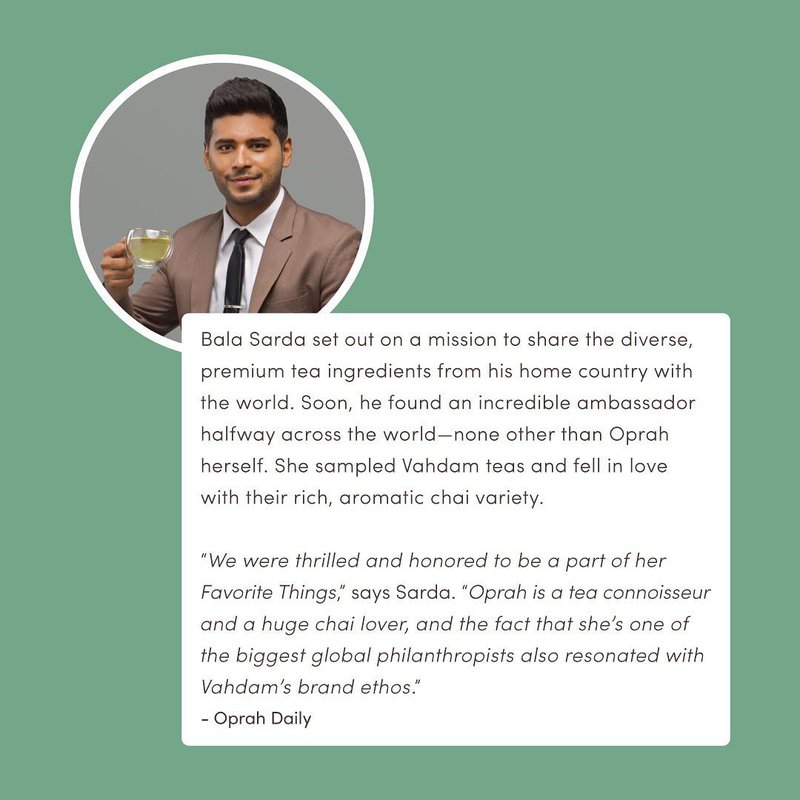 The question that arises here is what helped this 'ordinary' product category become 'extraordinary' on the global front?
Was it their brand marketing strategy? Their brand objective? Or a case of luck that helped them disrupt the 200-year-old supply chain of tea?
#1 The Make in India Ideology
India was and continues to be the second-largest tea-producing country, accounting for more than 25 percent of the world's total. Most tea brands available in the market were not Indian. Realizing this gap, Sarda established Vahdam from India and eventually ventured into international locations like the US, whilst retaining profits from the home country. Common challenges like product quality and supply chain fragmentation were met through Vahdam by building trust around the brand and amending its positioning. Today, Vahdam has earned the trust of its customers and gained a repute worldwide for being a premium tea brand, which has also helped them harness the internet as their distribution channel.
#2 The First Funding Factor
Getting the first round of funding worth $650,000 from a clutch of angel investors changed the scenario for Vahdam Teas. This came at a time when the tea brand was looking to enter new markets globally, invest in R&D, launch innovative products, and strengthen the management team. The initial funding acted as an inflection point that helped them bring the right people on board who believed in their vision.
#3 Resolve to Serve Society, Support Environment, and Create Social Impact
Vahdam Teas was quick to realize that the global consumers cared about environmental and social issues and supported brands that can provide sustainable solutions. This drove them to reformulate their motto to, "do well by doing well" and become a climate and plastic-neutral brand. Their quest for uplifting the community translated through Teach Me, a scholarship initiative for children in tea estates. About 1 percent of the brand's revenue is dedicated to the education of tea growers' children. Furthermore, to deliver high-quality education, Vahdam partnered with Byjus in 2020 that helped them gain access to 100,000+ academic programs, which were distributed amongst 1000+ children across their partner tea estates.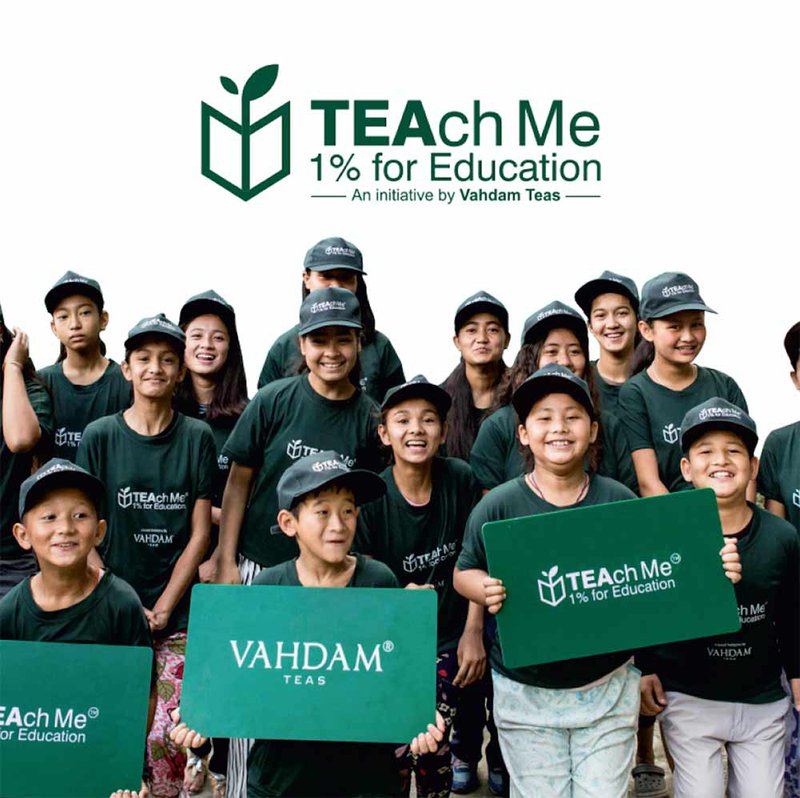 #4 Personable Brand and Powerful Purpose
The fact that Vahdam is a modern-day, youth-friendly tea brand and believes in the philosophy of accountability, transparency, and participation from and towards customers has helped them build a strong community and establish real connections. While each brand has its own way of communicating and community building, Vahdam's concept of sending out a "founder's letter" with every product proved to be the gateway for indulging in a direct conversation and building relatability. This same conversation is maintained via digital marketing. Their presence on social media is relevant, active and continues to build connect with its target audience.
Additionally, their objective of addressing micro issues like education, providing jobs to the youth, and empowering tea farmers has humanized this brand and set it up for long-term success.
The inspiring growth journey and fail-proof brand and digital marketing strategy of Vahdam Teas show that creating your brand in an authentic and personable way demands perseverance and vigilance. Having a clear understanding of the market needs and clarity in the brand's core purpose builds a strong foundation for the business.
Read more brand success stories here on GroCurv.