Popping Flavour…
Popping Flavours and Popcorn to Make Movie Marathons Exciting: 4700BC!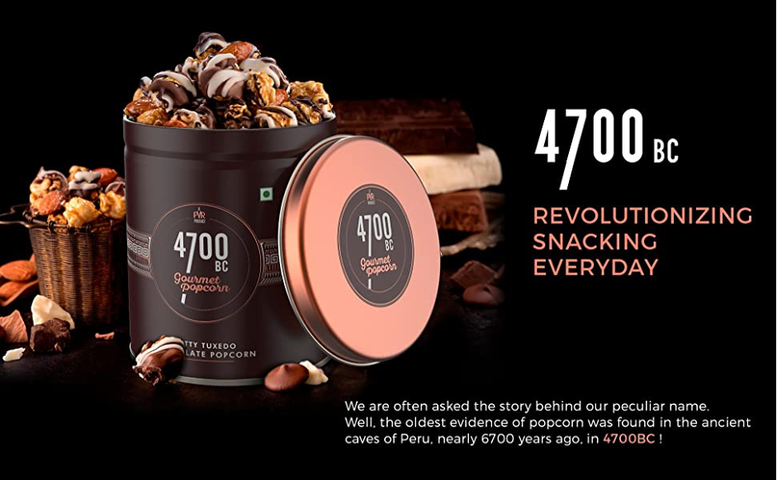 The Marketing Strategy of 4700BC Popcorn
For Indian consumers, popcorn is a simple, easily available snack costing as little as Rs. 20. Streetside vendors sell small packs of buttery popcorn, while grocery stores stock up instant and microwave-friendly versions with typical Indianized flavors. For many years, the Indian market was not accustomed to the concept of gourmet popcorn. This was until 2013, when two childhood friends, Chirag Gupta and Ankur Gupta, decided to transform a humble snack into a gourmet popcorn brand – 4700BC.
Starting from a single kiosk in Delhi to its presence in over 9 countries through an omnichannel presence, the brand has grabbed the opportunity in this space. A recently published report revealed that the popcorn market is anticipated to grow by more than 11 percent CAGR in the next 5 years in Asia. On a global scale, a study by Allied Market Research pointed out that the popcorn market is projected to reach $15 billion by 2023, with ready-to-eat foods dominating the segment. The numbers tell us that the market potential backs the brand's vision.
So, what did the popcorn brand do to get consumers from across the globe, mainly India, interested in 4700BC? Let's get a taste of their 'secret sauce', aka their brand marketing strategy, to spice up a simple snack like popcorn.
#1 Disrupting an Unexplored Territory -The First Mover Advantage
The prevailing gap in the Indian market for gourmet popcorn inspired the entrepreneur duos to take the leap with 4700BC. However, launching the first gourmet brand in India was not an easy feat. It involved a thorough research of the international markets, importing high-end machines, setting up makeshift kitchens, and batches of product tasting and testing. A year and a half later with an initial investment of 1.5 crores and myriad products, 4700BC established its first store in Delhi's DLF Place shopping mall. Being acknowledged by the country's largest multiplex chain – PVR in 2015, with a 70 percent stake for Rs. 5 crores, was a bright feather in their cap. This led to setting up a gourmet popcorn factory in Sonipat, Haryana.
#2 Embracing Global Palate – Indian Flavours No More
Popcorn would only sell if it had the right texture, crunch, and flavours. Having learnt this early on helped Chirag and Ankur introduce unique and international popcorn flavours that no other snack brand could think of. With flavours such as Himalayan Salt Caramel, Nutty Tuxedo, Sour Cream, Hawaiian BBQ Cheese, and Wasabi, 4700BC managed to outshine popular snacks in its segment. Moreover, unlike other standard popcorn on offer made with "butterfly" corn kernels, 4700BC made use of "mushroom" corn. The latter being an imported variant resulted in larger pieces of popcorn that are convenient to coat with toppings like molten chocolate or caramel.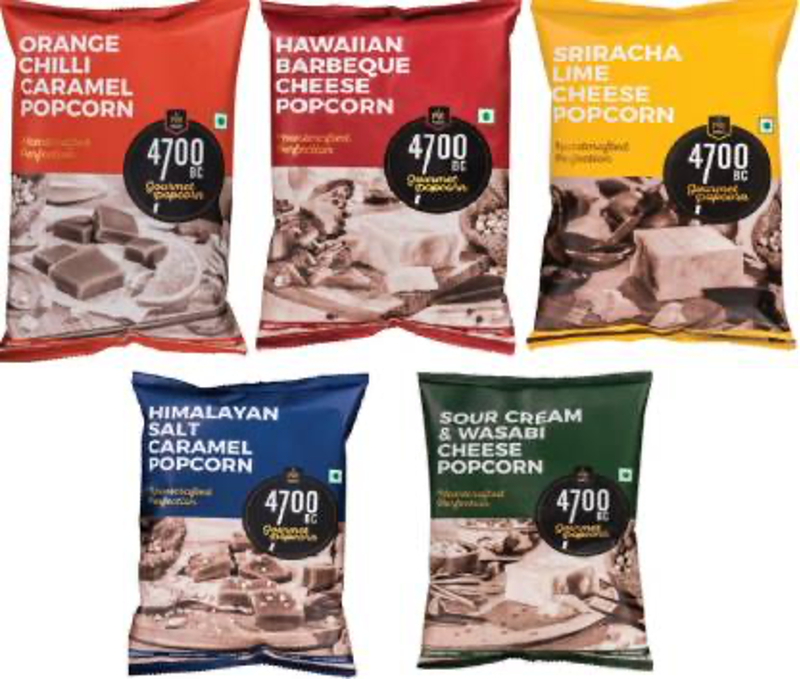 #3 Striking B2B Connections
Traditionally a D2C brand, 4700BC eventually leveraged B2B relationships and tied up with not only PVR but also catered to corporate clients like IndiGo, Amazon, Marriot Hotels, Google, Microsoft, and Lufthansa. Along with running stores in malls and stationing stalls within multiplexes, the popcorn brand came up with gift packs and festive-special hampers for corporates to gift their employees. The vision to make popcorn a favorite snacking companion – in cinema halls or outside of it – came to life. Presently, the brand has a presence through all major trade channels, eCommerce stores, airlines, cinemas, institutions, railways, and retail chains across major cities in India and beyond.
#4 Cohesive Brand Positioning
4700BC is placed in the market as a 'Creator' archetype brand, positioned in the premium/ luxury category. For a long time, the brand marketed itself as a premium snack through its products' visual language, but of late, the linguistic communication has been sharpened as well. The fact that popcorn is gluten-free, packed with antioxidants, made of whole grain, full of fiber, helped them position their products as healthier alternatives and target an audience that is willing to pay for healthy snacks. This message along with a coherent and strong digital marketing strategy has helped them accelerate growth.
The popcorn industry in India is on the road to extensive growth. Even with new entrants emerging rapidly and existing businesses looking to expand in the country, 4700BC has set itself apart from competition in India as well as across the border. Looking at their success so far backed by their consistent brand marketing efforts, 4700BC popcorn might soon be synonymous with 'snacks' as a category.
Read more inspiring brand case studies here on GroCurv!