Slurrp Farm: Th…
Slurrp Farm: The marketing strategy that conquered delicious summits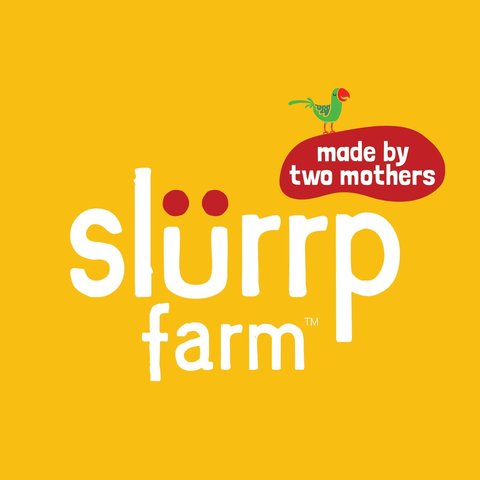 Slurrp Farm was founded by two mothers with the goal of providing healthy, tasty and natural food to children all around the world. They were running out of tasty and truly healthy ways of feeding their children as parents. They discovered that other young parents shared their angst with a lack of nutritional alternatives for their toddlers that they could trust. Shauravi Malik and Meghana Narayan co-founded Slurrp Farm to fill this gap in the baby foods segment.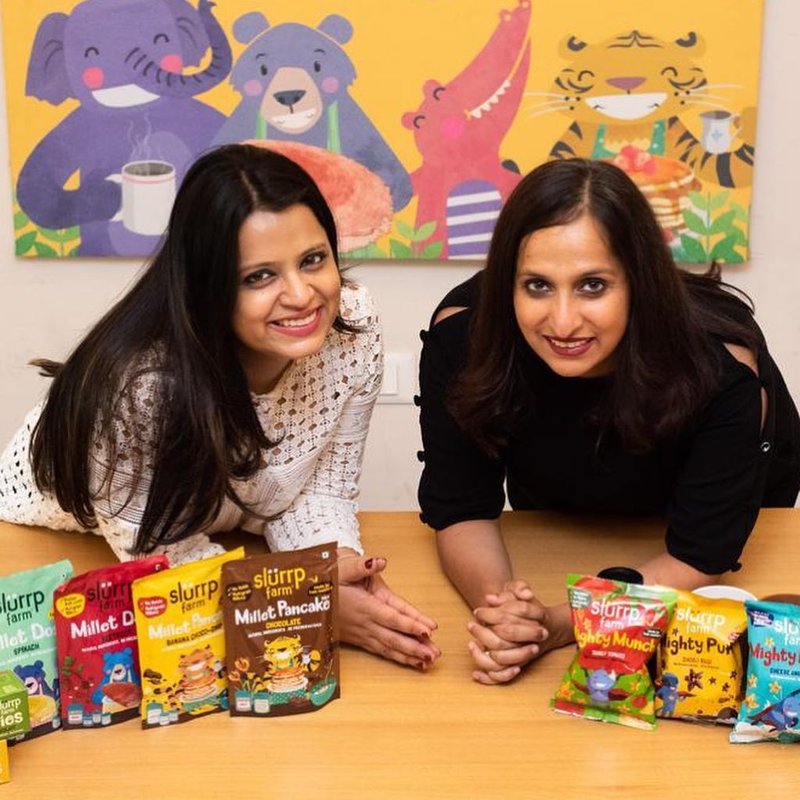 They began this venture with all their heart and recreated old recipes of their grandmothers that they could fondly recall. They wore their culinary hats and created tasty and healthy products that parents could trust and toddlers would love.
What began as a kitchen experiment has grown into a beloved children's food brand! It is now available on various leading online platforms and stores across India and the UAE. With recipes that focus on nutrition, the social media strategy of Slurrp Farm was focused on sharing content that reassures and inspires parents, especially young mothers.
So, how did they do it?
One of Slurrp Farm's major marketing strategies was to create an active and engaging community of parents, especially mothers. This naturally drove them to partner with platforms that parents frequent. The brand has a strong digital presence, and the use of the right digital marketing strategy has given impetus to the growth of the brand.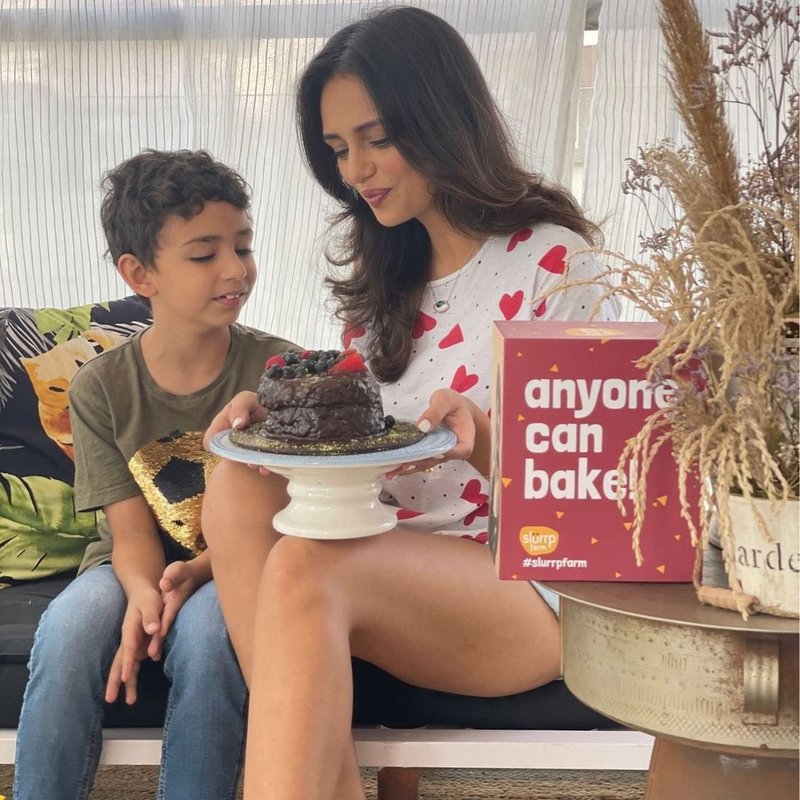 Blogs as the Conversation Starter
Slurrp Farm is an e-commerce integrated website. Hence, it is vital for them to increase their traffic on their website through their marketing strategies. Their marketing team smartly used SEO through their consistent publication of blogs. These blogs are written with the objective to help young parents into parenthood. Hence, their topics ranged from listicles of parenting books to nutritional information for toddlers. In fact, the resource they hired to manage the community and the blog piece was a popular mom blogger herself.
YouTube: making the brand relatable and aspirational
On YouTube, Slurrp Farm posted videos that acted as testimonials from parents. These included parents like Sameera Reddy, Rannvijay Singha, Soha Ali Khan, Tahira Kashyap, and more. In addition, some videos shared easy-to-make recipes on a day-to-day basis and those meant for special occasions.
Facebook: Cementing customer relationship with trust
Slurrp Farm rode on the wave of trust that was nurtured in active Facebook communities of mothers of young children. These communities became the go-to- for all sorts of parenting challenges, sharing personal journeys and having each other's back in this otherwise lonely journey. Slurrp Farm, not only partnered with popular parenting communities, to reach this discernible mother who is eternally on the lookout for healthy and tasty recipes, but it also created one of its own. The co-founders being mothers themselves, they got the pulse of this group quickly and set up a Slurrp Farm community which seeded in trust for the products via sharing of recipes, discussing feeding issues with children and user generated testimonials of meals created with the Slurrp Farm products. Thus, the Facebook community of mothers has played a vital role in helping actualize the marketing strategy.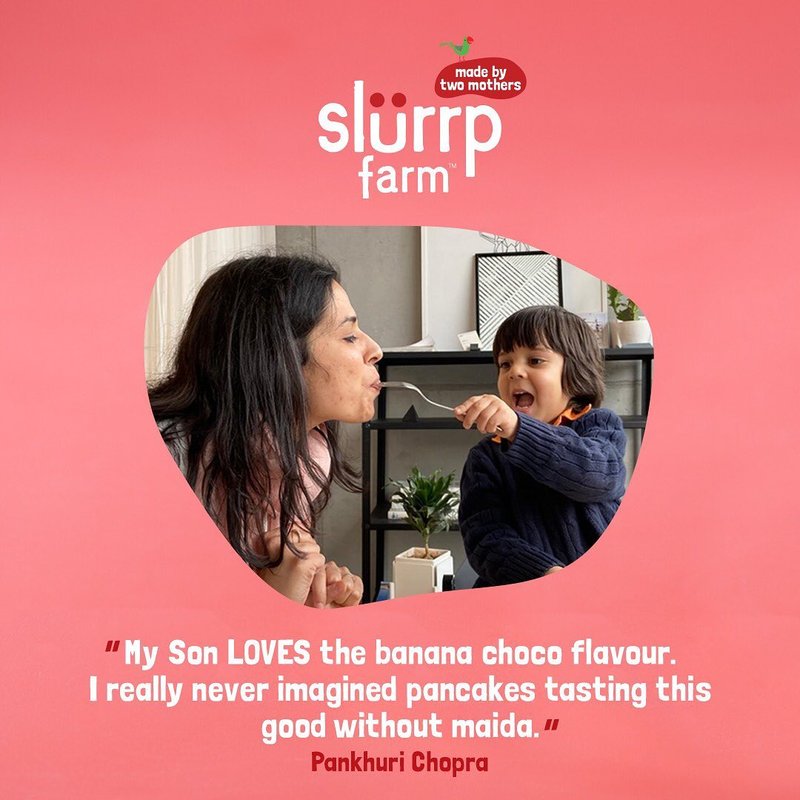 Instagram: Leveraging the visual appeal
On Instagram, they post engaging and attractive creatives that are on point with their graphics and information. This includes product promotion, recipes, meal plans for children and more. This again appeals to the typical audience and works on engaging them on a continual basis.
Informative content works effectively for Slurrp Farm since it allows them to highlight the benefits of their products while also keeping parents engaged with the brand. In the long run, publishing informative content in a consistent and appealing manner has helped with brand recall and potential lead generation.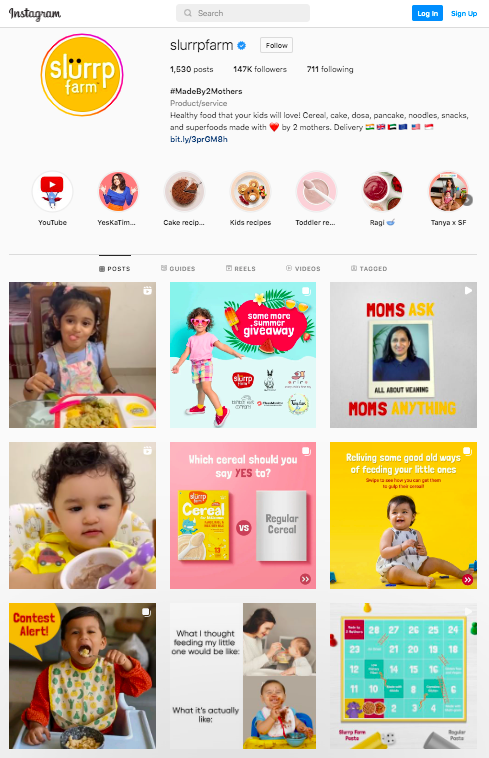 Slurrp Farm, as a product, has the potential to innovate and grow organically. Hence, its primary endeavour has been to build a consumer base that stays loyal to the brand in the long run. Being consistent with product quality, matching buyers' expectations, being innovative with flavours and food combos, sharing recipes and meal ideas, incorporating feedback from mothers and sharing user-led product stories were key steps to having the toddlers slurping away the meals and mothers happy!
What is it that your product is trying to fulfill for the customer? How are you working on earning trust? Are you able to optimize your digital marketing strategy and social media channels to their full potential? Allow us to help you, logon at https://grocurv.com