BUILDING THE SM…
BUILDING THE SME BRAND ON LINKEDIN - PeeSafe

How to use various social media platforms has been an interesting question asked on the GroCurv marketplace often.
B2B companies, fast growing but smaller in size have often wondered about Linkedin.
How do we start?
How much?
What kind of content?
In responding to these questions, we decided to look at how brands (SME) are using Linkedin and what are the good success stories out there. B2C as well as B2B.
This week, we are looking at PeeSafe. Founded in 2013, by Vikas Bagaria, a serial entrepreneur and a seasoned businessman, PeeSafe is among the fastest growing personal hygiene brands in the country today. A great example of how digital marketing has been used to build a strong, fast growing brand.
Our post BUILDING THE SME BRAND ON LINKEDIN talks of general rules on how Linkedin can be used effectively, this post focuses on PeeSafe and how they are gaining traction in the personal hygiene category.
Content: What's interesting?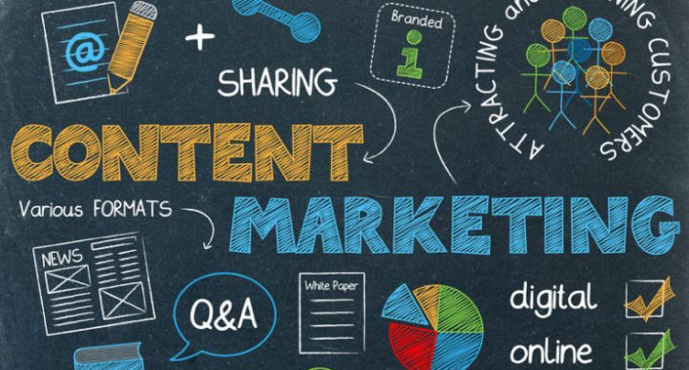 Well, the short answer is all content is interesting, if placed in the right context and frequency.
We find the following 7 content buckets relevant, dynamic and broad enough to give your page a very fresh look. Depending upon the size of your company, the stage of growth and specific objectives, you could choose some categories over others.
Who are we, what do we do. (including customer testimonials)
Product Usage (how to use, why to use)
New product launches
Celebrity endorsement/ PR
Employee engagement
Founder/ CEO news
Offers
Lets look at each in a bit more detail. Again, its not necessary to have news on each topic, but a variety of topics always creates more interest over time.
For example, a category like cosmetics is very widely understood. In this case, it is not as important to explain the product and usage, as it is to explain "Why us?". What makes our brand more interesting?
And sometimes, the emotional route, with consumer stories, founder stories, employee stories is also a great way to establish the brand, than simply product benefit stories.
Who are we and what do we do
PeeSafe is establishing the category of personal hygiene, especially in how their products make it safer for women to use public washroom and toilet facilities. This means that a lot of their communication is about:
describing the problem,
explaining the solution and then
establishing their products as the best option.
Therefore a lot of "who we are and how to use us" posts are important. The consumer has to be explained the problem statement and solution again and again till it becomes a habit.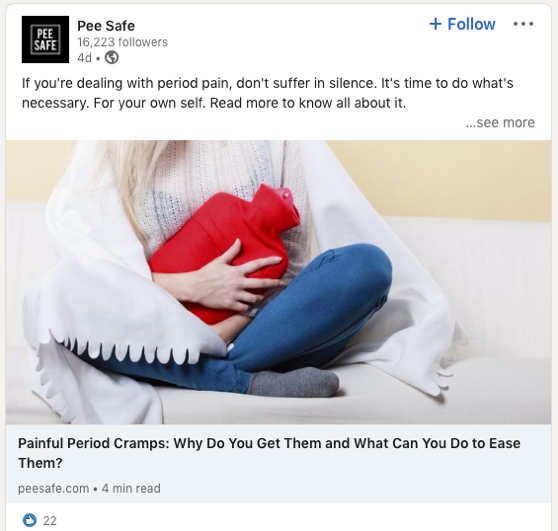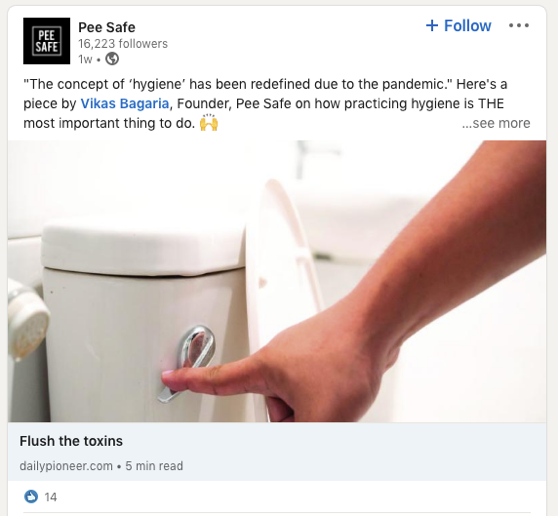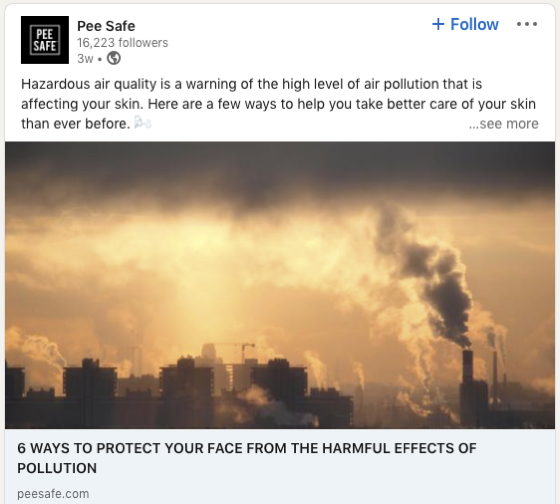 New product launches
Social media is a great way to announce and promote new product launches. This showcases your company as innovative, responsive and exciting.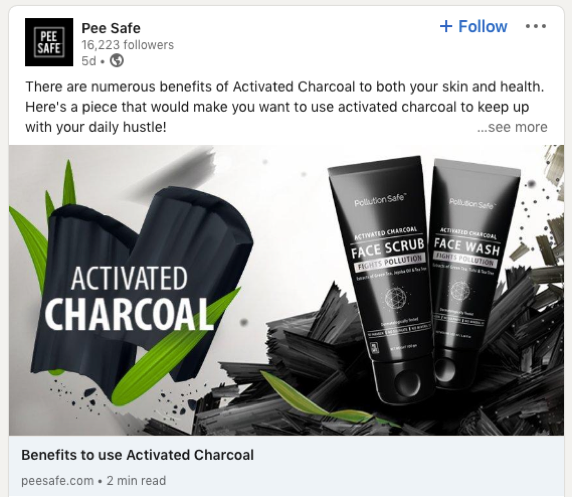 Celebrity endorsement/ PR
In order to further highlight the usage of the brand, celebrity, consumer and influencer stories are a great boost to its social media presence and consumer connect. This form of content is very powerful in the establishing the credibility of your brand.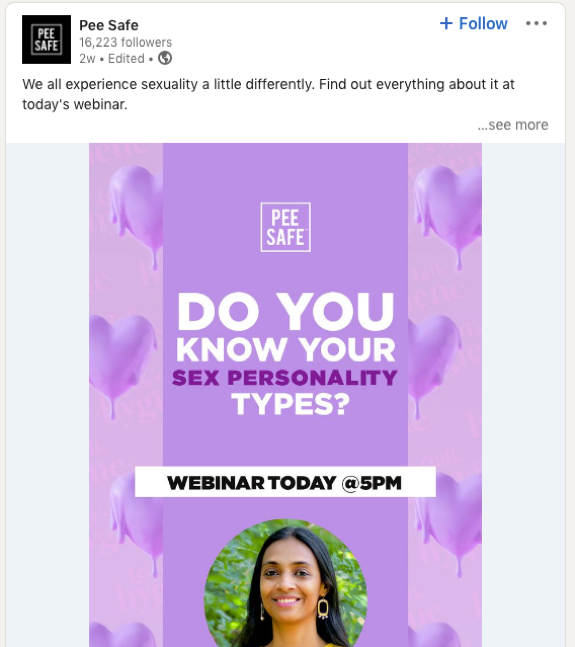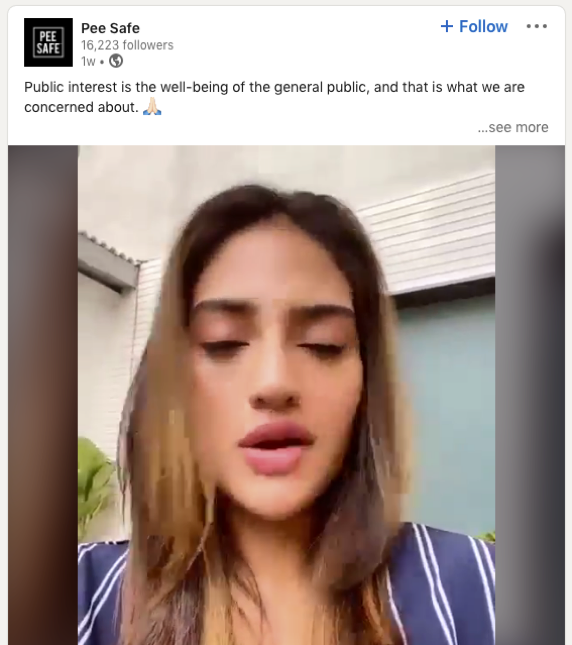 Employee engagement
Events/ festivals/ training: Employee engagement is a great way to "humanise" your brand with the ability to see "real people" working in your company and what their experience is. Employee stories/ hiring news all add credibility to the brand story and nothing generates more goodwill than happy engaged employees committed to customer success.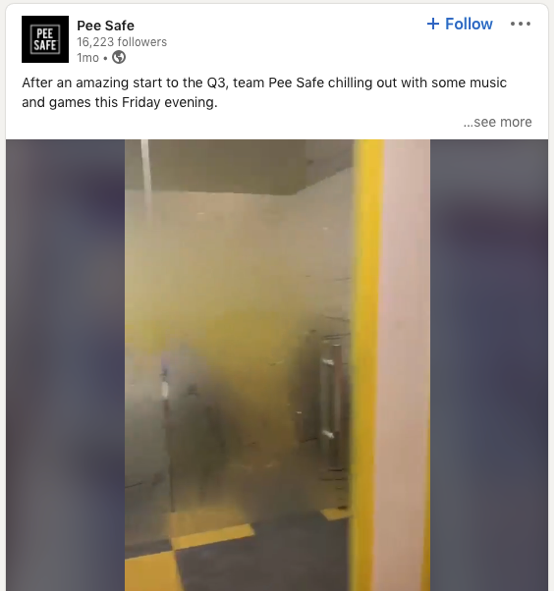 Founder/ CEO news
News about the founder in the press/ in industry bodies or events adds credibility to the company as an authority and source of knowledge in its industry. Any positive news should be easily integrated into social media.
Negative press or publicity needs to be handled more cautiously.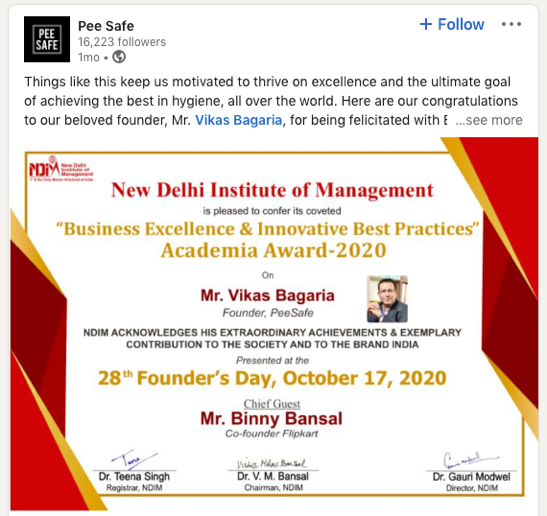 Offers and Promotions
Any campaigns on the company products and services should be integrated into linkedin at the same time that it is shared on other social media. Offers are a great way to introduce a potential customer to a brand, allowing him to reduce the risk of a bad purchase.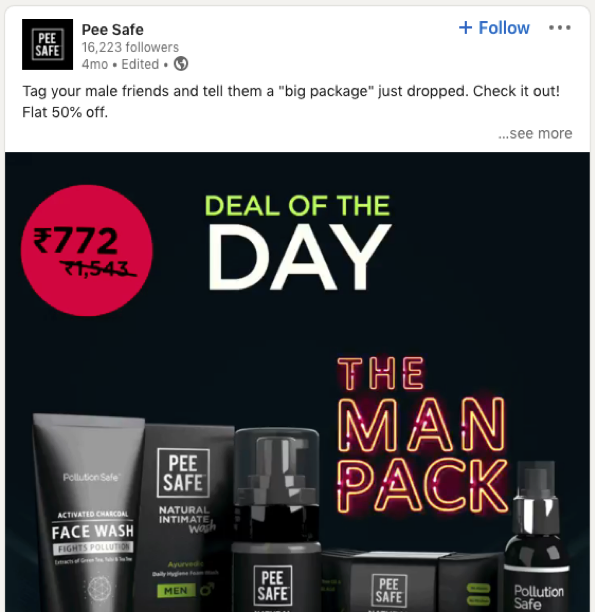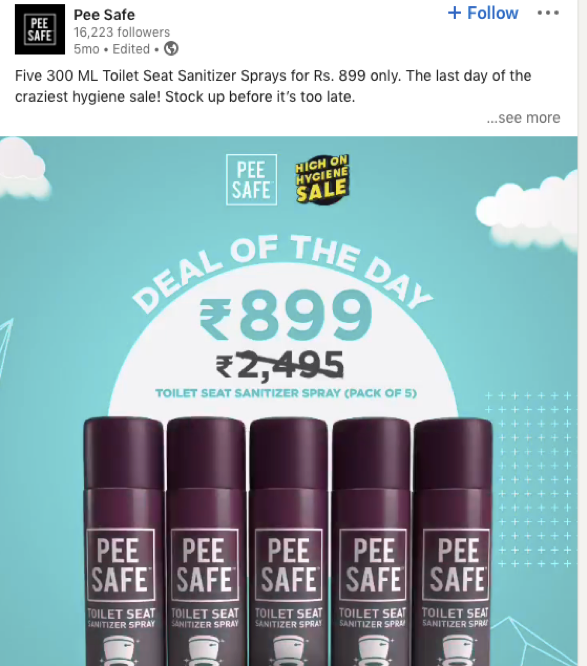 Conclusion
There is always great content and stories about your company/ product or service. Often in the day to day routine, we miss seeing these stories as powerful engagement options. The idea of this note is to awaken you to these brand content stories and ensure that they are captured and shared, without being overlooked.