This Edtech sta…
This Edtech startup boosted LinkedIn organic reach by over 50% in just 60 days!

When digital marketing reared it mega-byte head, every brand knew it had to leverage this for boosted visibility and sales. With Facebook and Instagram taking the lead with for B2C digital marketing, LinkedIn became the place of play for B2B networking. What is posted to engage the consumer on B2C platforms, is given a more professional avatar on the latter. The business face of a brand builds itself on LinkedIn to establish brand image, professional reputation and prospective clients and employees.
How then does a startup manage to create a leading brand position on LinkedIn? What is its digital marketing strategy so that it creates a noise as well as the echo?
LinkedIn marketing has boosted market position and direct sales for brands across almost every industry. Be the startups or second-generation businesses, LinkedIn has given that extra edge of digital marketing to each. Here's how and where a holistic brand presence has been made possible. Strategic content marketing has given fintech, edutech, healthcare, food & beverage, apparel – you name it –leverage, leads and listings.
Let's look at the case of UpGrad – clocking almost 300K followers on LinkedIn alone. This edtech brand was founded in 2015, is India's largest online higher education company. It collaborates with the best global universities to give professionals the opportunity to advance qualifications in Data Science, Technology, Management and Law. Most importantly, it talks to mid-level professionals and aspirational senior-level students -who are on LinkedIn, who are looking for better professional opportunities and growth, who are looking for brands who make it simple and viable. That's how UpGrad ranked #1 in LinkedIn Top Startups.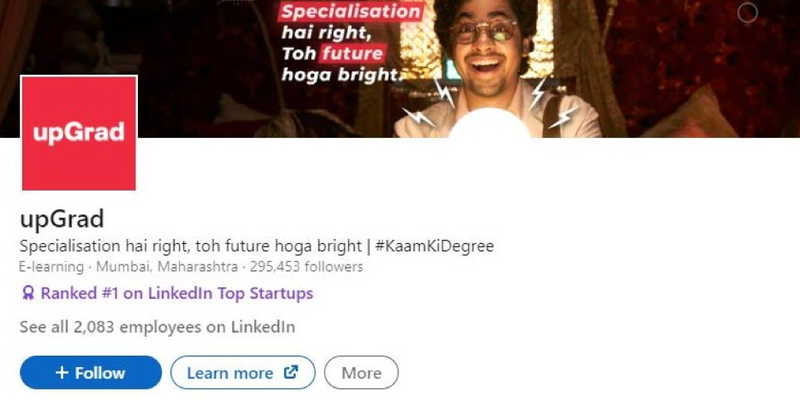 Here's how UpGrad works around LinkedIn's elements to create impact on a digital marketing activity level.
Toning it Right
Keeping in mind its key target group, UpGrad's tone of voice is friendly and the communication is colloquially right. With a tagline 'Specialization hai right, toh future hoga bright', the Indian mid-level professional is at ease. So is the investor or university looking to collaborate and grow with UpGrad.
The Hashtag
Yes, even LinkedIn requires you to have the right hashtag strategy in place. So, while the generic stuff works, the specific ones you choose for your brand must be those that are sticky. UpGrad's #KaamKiDegree is immediately catchy, practical and drives homes the point. Using it across posts and even banner creatives build on the USP of the brand itself.
Consistent posts
It's all about lifelong learning. It's also about consistent posting. One thing to remember – you can't treat your LinkedIn timeline like your Instagram handle. Best practices advise at least one post a day, so you're not overdoing it on a professional platform. UpGrad whets its communication by posting one a day. These alternate between video promos, in-house entertaining episodes and student congratulatory posts. The mix ensures engagement from B2C and B2B followers.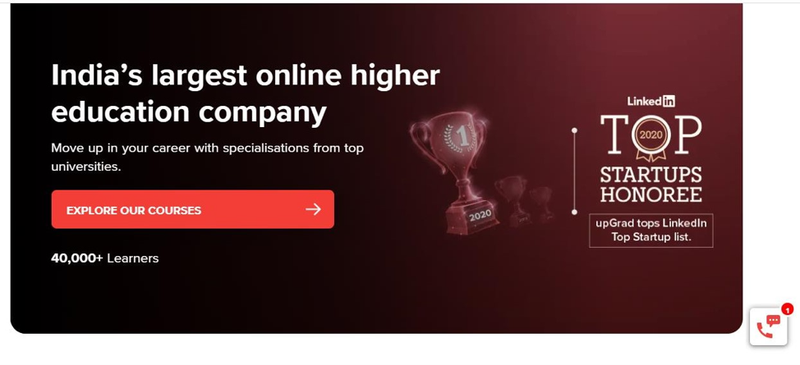 Leveraging new elements
LinkedIn has added five new elements to its roster this year. From name pronunciation audio aid to carousel posts – a brand should employ these as required. UpGrad's stylized carousel creatives take on popular characters like Munnabhai and Tony Stark to maximize engagement and keep the doors open to its many classrooms.
Digital marketing for a startup requires a simple yet well-researched plan that fits the brand's USP and its infrastructure. UpGrad upgraded to more sophisticated creatives as it grew in strength. It keeps a balance of simple certification shares and videos, so that the posts keep coming without burning a hole in its marketing budget. All content is kept solution-oriented. Easy EMIs for professional courses, meet the mentor opportunities, healthy professional debate threads and so on. This mix balances organic as well as sponsored reach.
LinkedIn digital marketing, as UpGrad shows, is perfect for startups that have close to 70% of their target group actively involved on this platform. Case studies have proved a 20% reduction in the CPL (Cost per Lead) for UpGrad, via LinkedIn.
If you're a startup that needs to enhance brand awareness, or engage with potential customers, LinkedIn is a platform worth your while. Get in touch with us at GroCurv to help yourselves with the right partners for kickstarting your LinkedIn success story.