The Story of Tr…
The Story of Transforming the Humble Indian Grain 'Millets' into a 'Soulfull' Consumer Brand

Many people dream about living in the lap of nature and eating fresh produce off the farm, as opposed to fast-paced urban lives. While this seems alluring to many, only few take the plunge. Prashant Parameswaran, the MD, and CEO of 'Soulfull' is one among those.
Having witnessed the involvement of his forefathers in the Green Revolution, agriculture was always a subject of interest and importance to Prashant. After working on data integration systems for top retail chains in the US, he decided to quit his job to pursue his passion – adding value in the scene of Indian agriculture.
Driven by the mission to bring back age-old Indian grains into the limelight, Prashant visited his roots to give birth to his venture. Being Kochi-based and sympathizing with Attappady's ongoing health crisis, millets grown in the region called out to him. In 2012-end, the young entrepreneur built the manufacturing unit for millet-based breakfast cereal under the brand name Soulfull.
Prashant had witnessed the rising popularity of superfoods like ragi and quinoa during his stay in the US, so decided to give a modern twist to the traditional grains by packing them into delicious, tasty, and healthy breakfast options. Presently, Soulfull has captured the Indian millet-based cereal market through its 50,000+ outlets spread across Mumbai, Hyderabad, Bangalore, NCR, and Kerala among others.
What are the factors that propelled growth for Soulfull? Let's delve into its brand strategy, USP, and business model.
#1 Idea and Intent of Soulfull
The brand was conceived with an intent to capitalize on India's native nutritional crop – millets. Deep market research into agricultural produces and association with institutes like International Crops Research Institute for the Semi-Arid Tropics (ICRISAT), Tamil Nadu Agricultural University (TNAU), and Directorate of Sorghum Research (DSR) ignited his curiosity to leverage the goodness of millets. Soulfull was, thus, launched as a brand offering millet-based snacks while meeting the needs of a typical Indian consumer: taste, convenience, nutrition, and ease of availability. Ragi Fills, Ragi Flakes, Desi Muesli, Loopies, and Smoothix are a few things that you can get from Soulfull.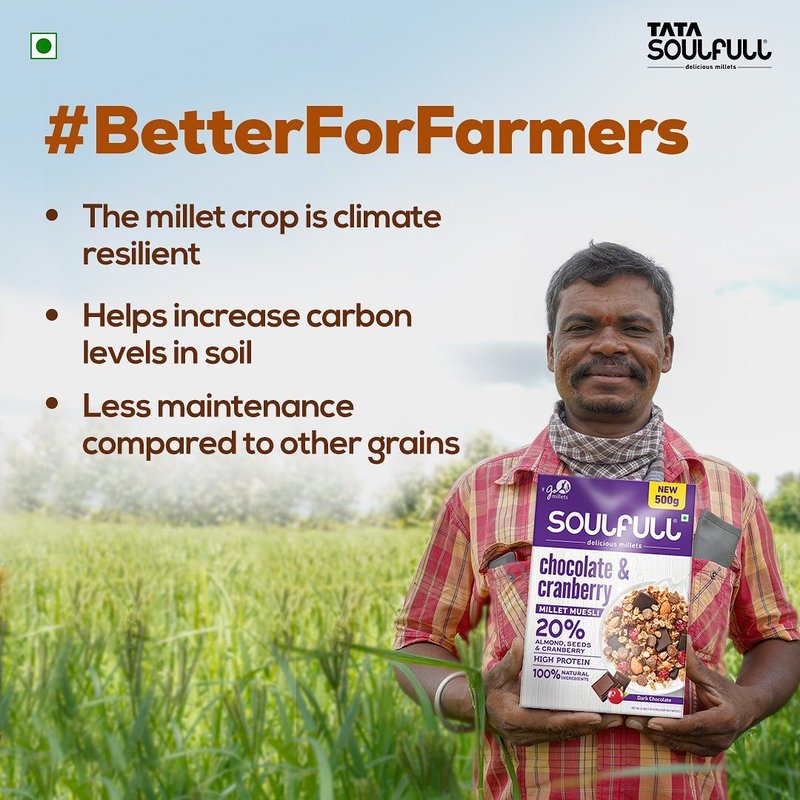 #2 Understanding of Marketplace Needs
The fact that consumers are becoming more aware of the food they consume and seeking to solve their nutritional requirements prompted Soulfull to fill the unmet gap in their marketplace. The Indian consumers are no longer restricted by the three-fixed meals per day. They are gradually becoming health-conscious, thereby powering the demand for healthier snacking options. Here's where Soulfull carved a competitive edge for itself by using millets in all their products, which no other player has been able to replicate so far.
The mere benefit that millet offers nutrition to the consumers and is good for the farmers and the environment has helped them appease the 'sustainably-minded' consumers. Importantly, the opportunity that the Indian snacking market offers is rightfully known to the brand and they are betting big on it with a focus on enhancing other offerings.
#3 Positioning of the Product Umbrella
Health and wellness products are driving the market, and Soulfull is ready to ride the wave. In the saturated industry of snacks, fresh vegetables, and frozen food, Soulfull stood out by foraying into the superfoods segment. With a long-term goal of providing healthy and immunity-boosting products, the brand leveraged the traditional Indian grains and developed a range of products with health benefits, for both adults and kids. What strengthened its presence is the omnichannel retail strategy of the brand. At present, their products are available across specialty stores, Kirana stores, and e-Commerce websites. Using a strong digital marketing strategy to supplement the brand's presence and position has worked very well for Soulfull.

Soulfull's success can be safely credited to the thorough market research backed by an understanding of consumer behaviour. Its brand strategy and digital marketing strategy helped the brand get an accurate view of the marketplace, make more informed decisions, and enter Indian homes- one nutritious product at a time.
No matter where you are in your journey, it is worth evaluating your brand marketing strategy.
Read more inspiring brand case studies here on GroCurv.com