Sleep should co…
Sleep should come easy- The SleepyCat story

"Sleep should come easy. At SleepyCat, our mission is simple. To provide you with innovative, luxurious sleep solutions that add to your everyday comfort.
Everything we make, I love to use. The goal is to create sleep spaces that we love coming home to, as much as we look forward to stepping out. "
Kabir Siddiq
Founder & CEO, SleepyCat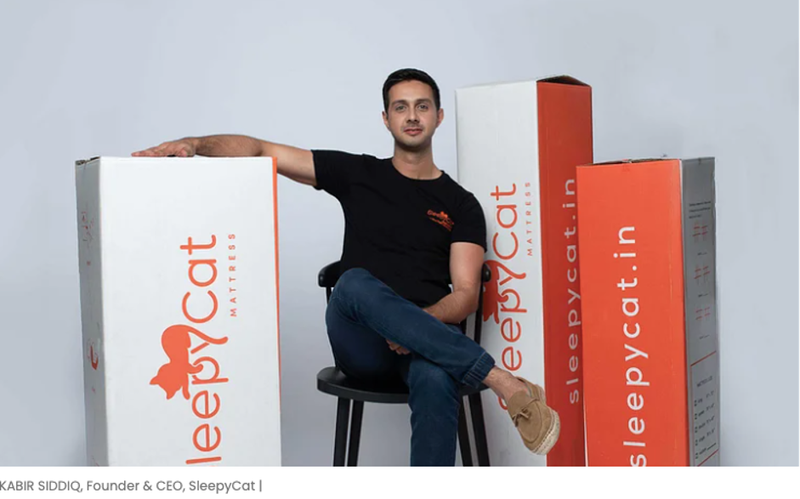 The rise of SleepyCat into one of the most innovative brands in recent times comes from a mix of consumer insight (we struggle to get the right mattress), technology (the memory foam that helps find the right contour on the mattress) and a communication style that makes the brand accessible, friendly and desirable.
A report by fitness solutions company Fitbit shows Indians were the second-most sleep-deprived people after the Japanese, getting an average night sleep of seven hours and as a consequence- India has emerged as the least active nation among 18 countries including the US, the UK, Japan, and Singapore.
With rising income levels consumers have looked for solutions to improve every aspect of their lives and certainly comfortable sleep has been a segment left behind . New technologies, better consumer connect and seamless logistics have all helped the mattress segment begin to re-invent itself as no longer a "one size fits all".

So whats working for SleepyCat:
Product innovation:
Brands are introducing mattresses with properties like breathability, no odor, zero sagging, long-lasting and temperature controlling, etc. SleepyCat offers Gel Memory Mattresses (6 inches and 8 inches, 7-inch Latex Mattress); Pillows (Memory Foam, Cuddle), Cloud (Microfiber Pillow); all-season comforters; Bed Base (Metal Base & DIY Ohayo Bed), Weighted Blankets, Pet Beds (regular and orthopaedic).
Consumer connect: SleepyCat website gives a personalized recommendation to users based on age, sleeping habit, mattress usage, sleeping issues. The brand has collected data to understand the user's needs better and hence they are able to share better recommendations on every visit.
Brand persona: This is an area where the brand has brought a lot of freshness to the category. Recognising that the urban consumer is happy to spend on a brand that connects with her, SleepyCat has established a language, and tonality of fun. Showcasing customers finding real life problems getting solved. Its using emotional connect on the back of strong product and technological innovations.
SleepyCat's home page and social media pages are fun. Relaxed. Empowering. Much as traditional mattress shopping was not.
( remember the dingy back rooms of furniture shops where a few options were stacked. With no sensible literature, we relied on the seller's word? And then waited while he organised a tempo over 2-3 days to make the delivery)
This is where SleepyCat has made itself so unique and such a stand out brand in the category.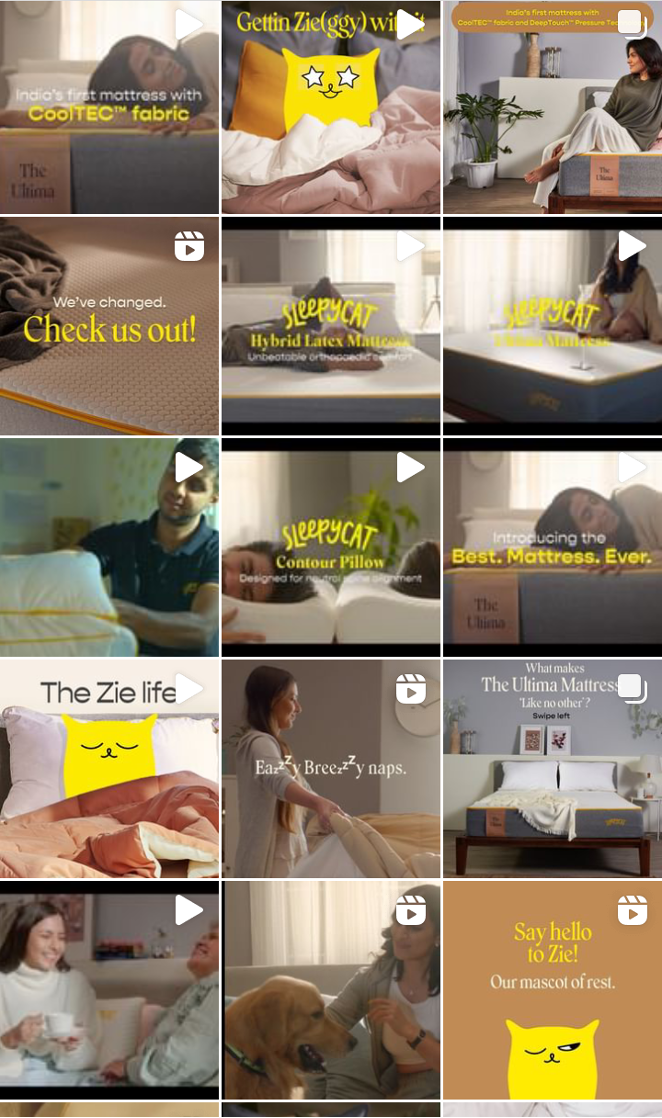 A quick look at the competition
Wakefit (https://www.wakefit.co/) and SleepyHead (https://mysleepyhead.com/) are two players we looked at who are both trying to modernise the mattress and "sleep" industry.
Clearly the market is big enough for several players to weave their own stories.
Where we find a strong difference is that the human stories of SleepyCat are a strong and enticing alternate to the product heavy stories of the other brands in the market. Their website/ blogs and Instagram handles are distinctly different; with the focus of SleepyCat very strongly on consumer connect.
Enabling the consumer purchase journey through not only relevant information told in an engaging way, the SleepyCat website also stands on a very vibrant and convenient interface. While the explosion of categories beyond sleep leaves the wakefit and sleepyhead websites a very confusing experience.
Conclusion:
The SleepyCat story is a story of the power of technology and razor sharp focus on the consumer and executing well for her. Technology will allow innovations in every aspect of life, to the entrepreneur able to connect the dots.
The story takes off, if this technology then connects with the consumer in a functional and emotional manner.
And finally when the entire organisation is aligned to make sure that the purchase experience and the product experience validate the brand promise, the acceleration of the brand is a given.
For more stories of how young brands grow, visit us on www.grocurv.com