BUILDING THE SM…
BUILDING THE SME BRAND ON LINKEDIN- Orient Bell Tiles

Continuing our focus on building your brands social media presence on Linkedin (See: Sugar Cosmetics and Pee Safe ) , this week we look at how a legacy but resurgent brand in the B2B and B2C is doing this, with the example of Orient Bell Tiles.
A challenger in the market dominated by Kajaria, Somnay and H&R Johnson, OBL is using social media intelligently to build a share of voice larger than its relative market share. Focusing on the different types of engagement:
Who are we, what do we do. (including customer testimonials)
Product Usage (how to use, why to use)
New product launches
Thought Leadership
Celebrity endorsement/ PR
Employee engagement
Founder/ CEO news
Offers
Employee Engagement
Every individual in your company has a different story. And people are on your social media to hear and read new stories. So why no encourage your employees to talk about themselves.
Challenges they have overcome
Challenges they are undertaking
Support received from the company
Skills they have built up at work
What excites them about your company
Success stories at work that they were a part of.
Here are some examples of employees celebrating festivals…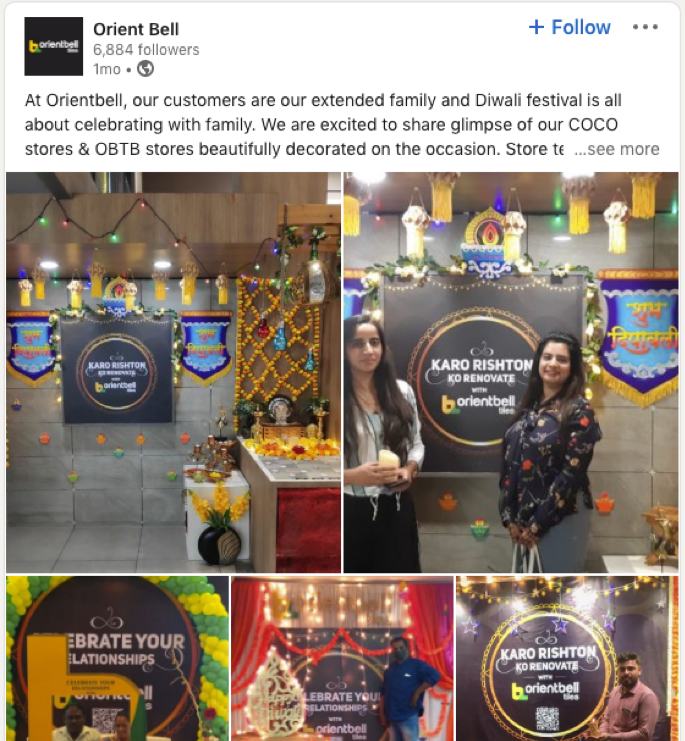 ..and the Sales team learning to engage with each other in different ways during the Lockdown.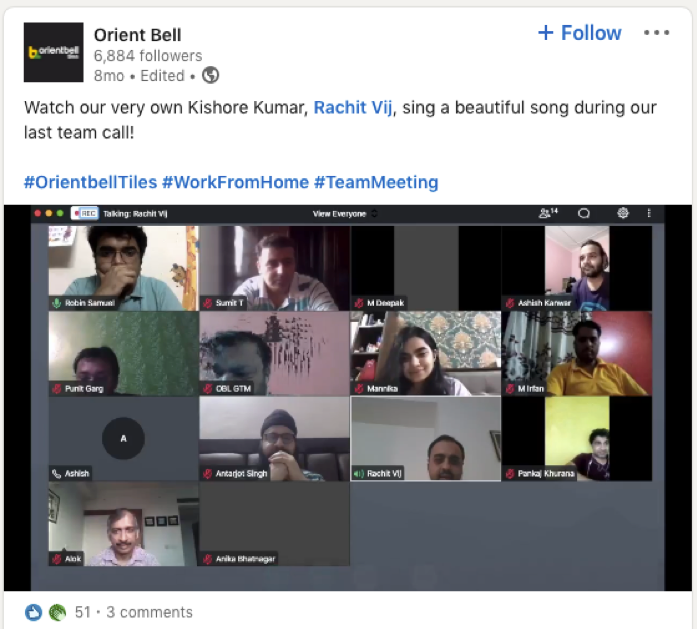 Leadership Profiling
Leadership profiling is a great way to attract potential employees as also engage existing ones. Recognition by media for ideas shared by the leadership team is a great way to build your profile among consumers (especially B2B) and employees.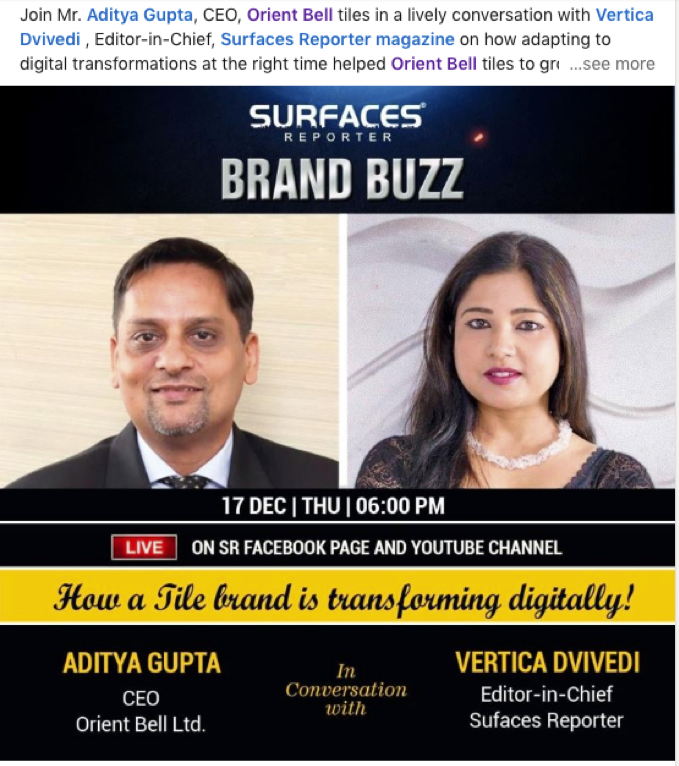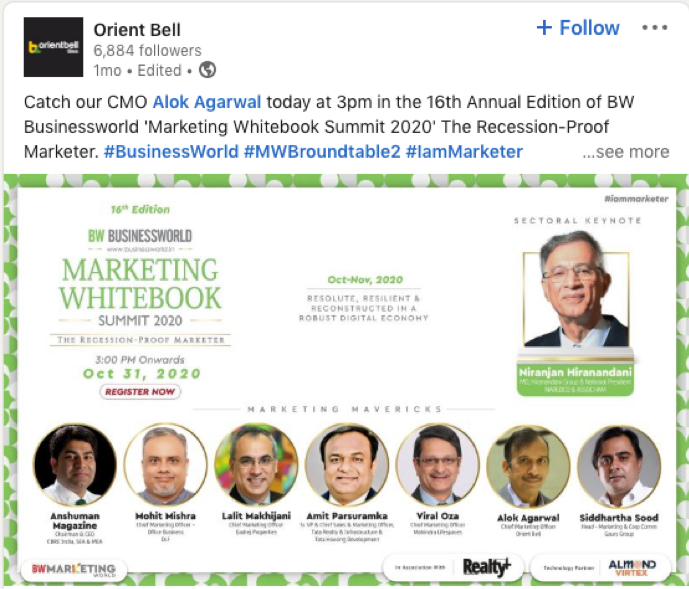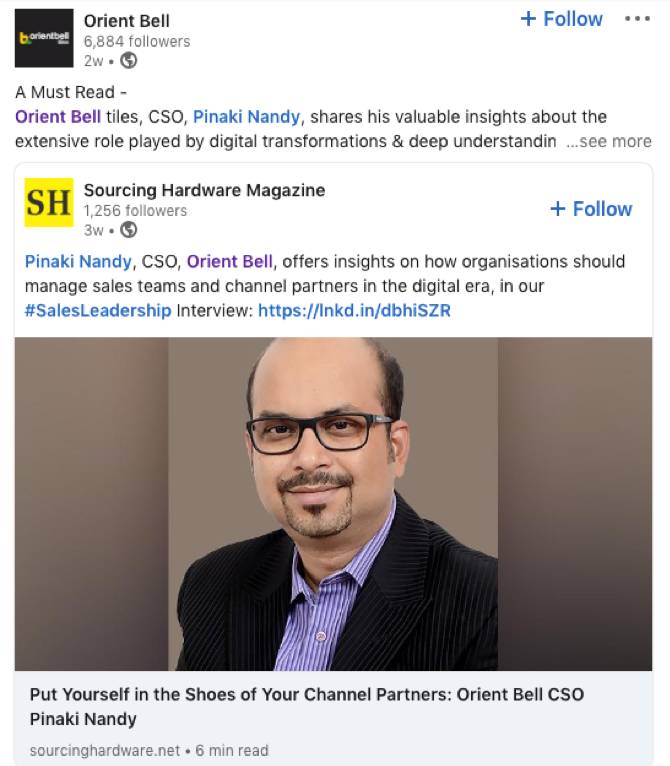 Celebrity Engagement/ Guest Speakers
Associating with thought leaders in your industry is a great way to highlight your own thought leadership and vibrancy. Getting new perspectives is a great way to influence buyers and the entire organisation itself.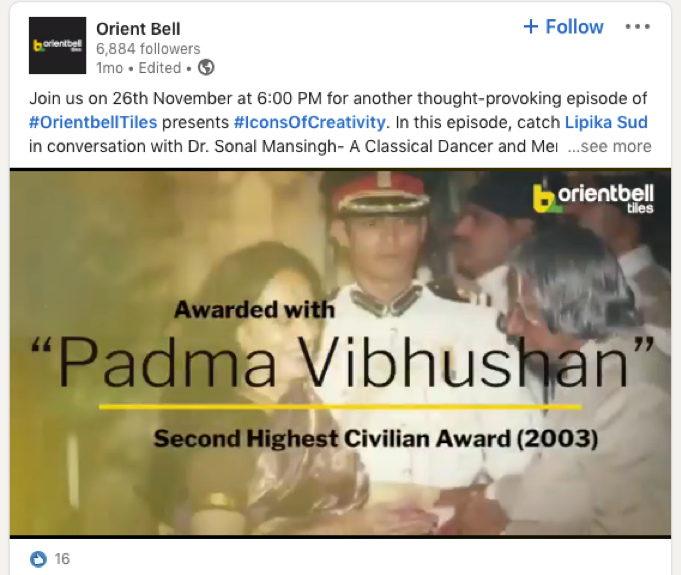 Campaigns and New Product information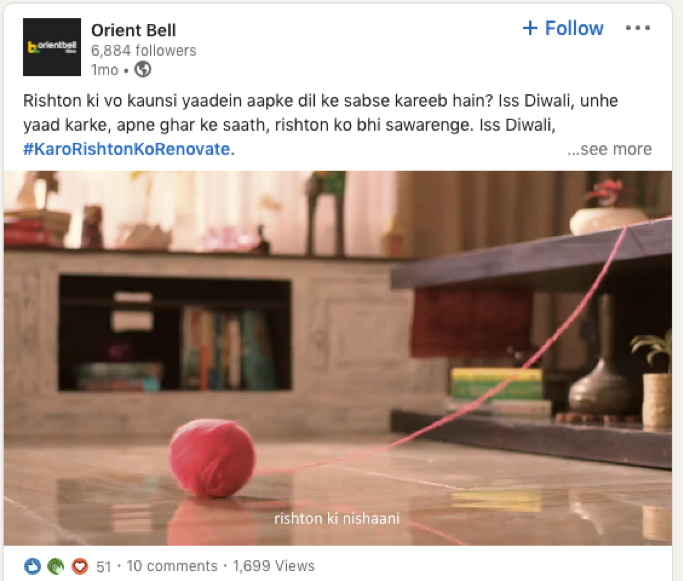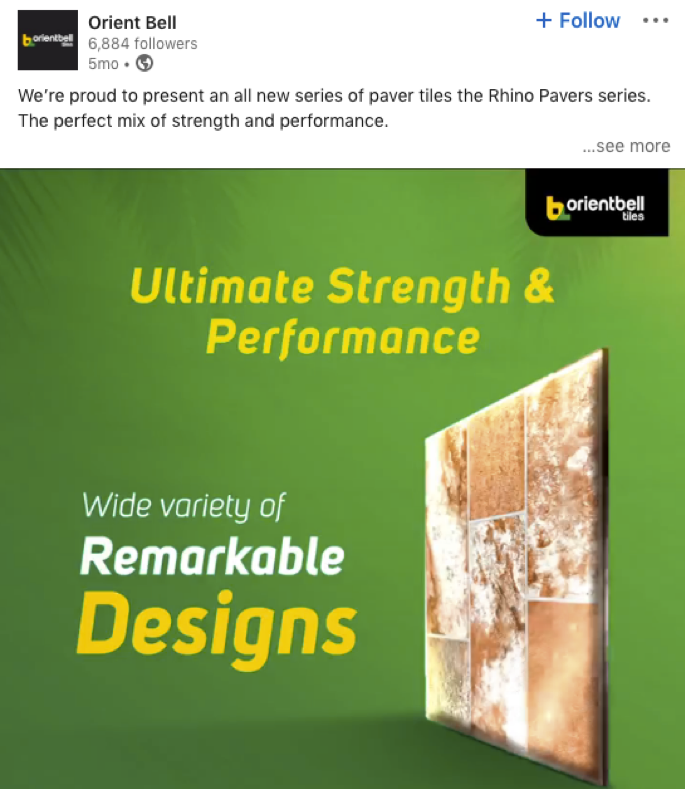 Company news/ awards
All news is good news, especially the good news. New products, new offices opened. These are all ways to keep the company in the eyes of the public. To showcase that you are growing, dynamic , expanding and therefore an exciting place to work in.
An awards, recognition from industry bodies further add credibility to your company as a great place to work.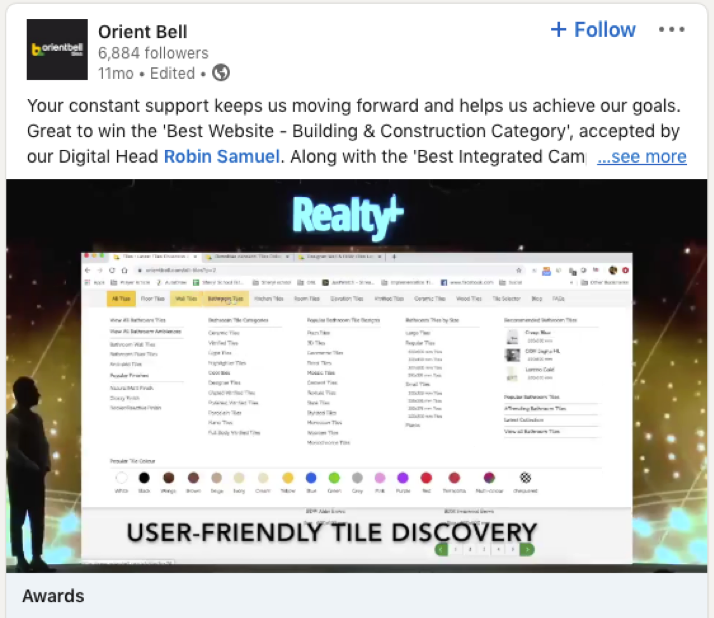 Customer engagement/ Contests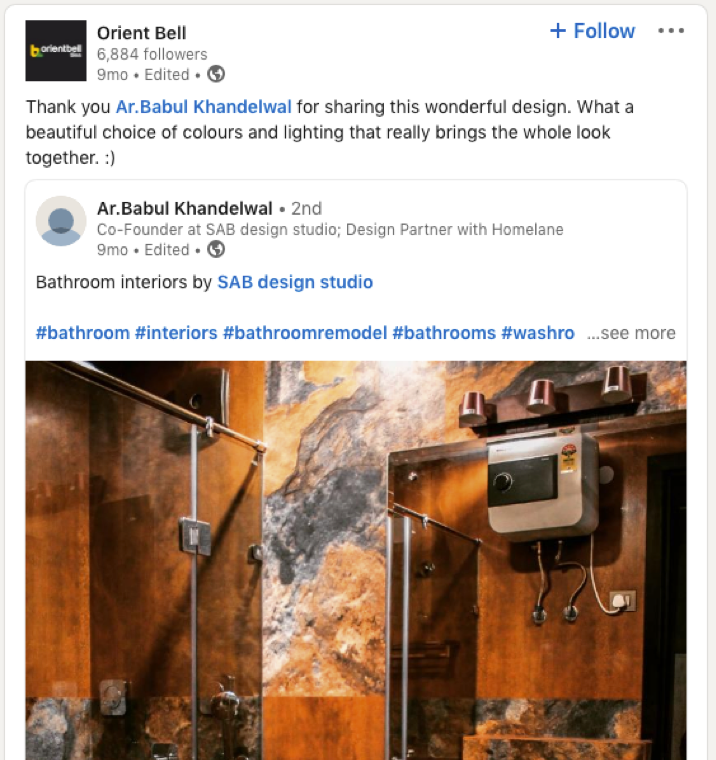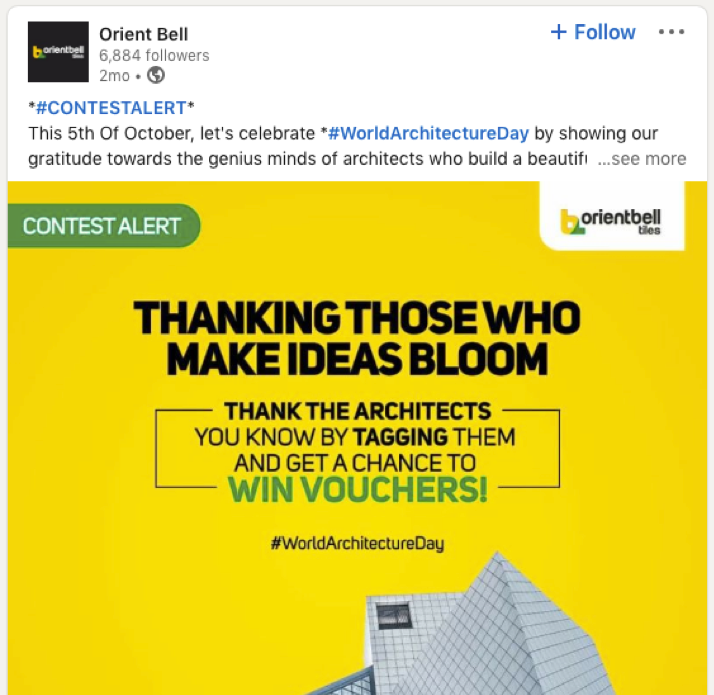 Thought leadership/ How to use the product
And finally, your own thought leadership in your industry is invaluable.
"HOW TO" stories on sales, product development, employee retention and other topics that your industry may find challenging, are a great way to show how you have addressed and overcome those challenges.
There are, in the course of your company's history numerous instances of challenges coming at you. Learnings from these episodes are priceless.
Of course as you work towards your own growth, surely you are looking at how your industry is evolving and how you want to address that evolution.
These are all ways to share with potential clients and employees that you make the effort to apply thought before action and are committed to their success.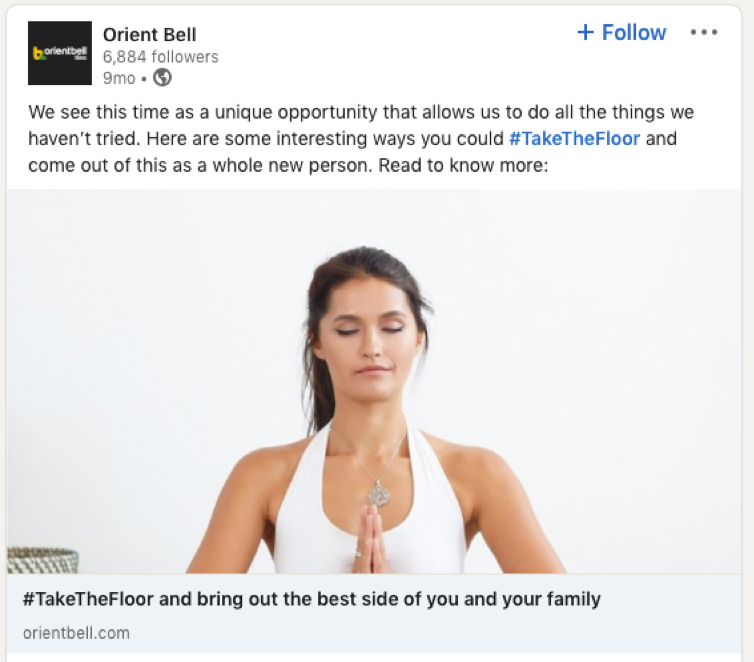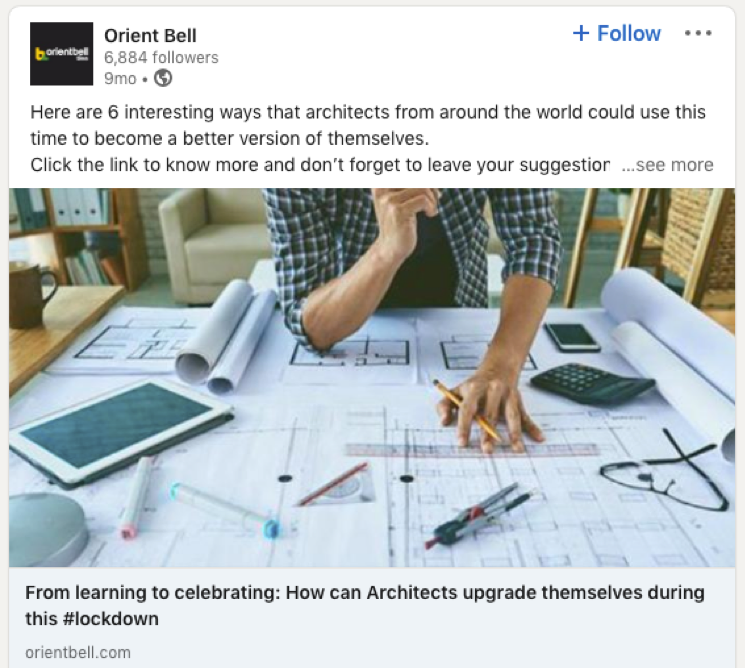 Conclusion
Linkedin is a great place to share thought out content for an audience who likes to get into details and engage its mind. For a business, it is an invaluable way to engage to express differentiation. A little time with a good writer will definitely help you bring alive many relevant stories about your company. Orient Bell Tiles is a great story of how a traditional brand uses new age digital marketing strategies to enhance consumer relationships and build a new target audience altogether.
For more on Linkedin marketing, specifically how to build your own linkedin page, do check out our blog.