BUILDING THE SM…
BUILDING THE SME BRAND ON LINKEDIN- mCaffeine Case Study

How to use various social media platforms has been an interesting question asked on the GroCurv marketplace often.
Companies, fast growing but smaller in size have often wondered about Linkedin.
How do we start?
How much?
What kind of content?
In responding to these questions, we decided to look at how brands (SME) are using Linkedin and what are the good success stories out there. B2C as well as B2B.
Continuing our focus on building your brands social media presence on Linkedin (See: Sugar Cosmetics, Pee Safe and Orient Bell Tiles ) , This week, we are looking at mCaffeine. mCaffeine's founders, Vikas Lachhwani and Tarun Sharma started the company in 2016. The choice of Coffee as the key ingredient came about because while researching extracts, they found online literature which stated that caffeine is very nourishing for the skin. And from then, the team has never looked back.
Our blog Building SME Brand on LinkedIn talks of general rules on how Linkedin can be used effectively. This post focuses on mCaffeine and the Cosmetics category.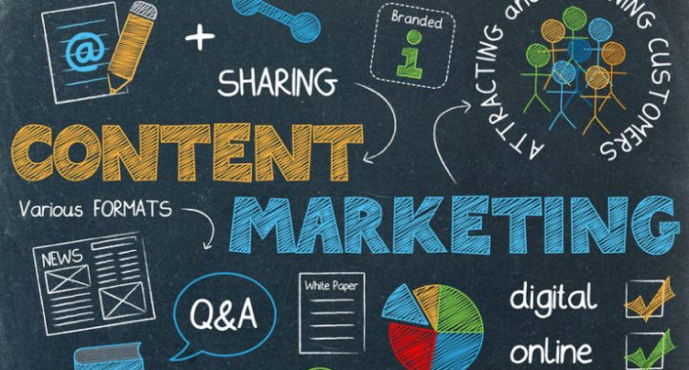 Content has three basic rules for it to be relevant:
Why are you creating this content (what is your expertise in the area)?
Does it connect on an emotional level with me?
Does it connect on a rational level with me.
Different social media can effectively help you make the right connect with your audience. However, we find that no matter which medium you use, the following 6 content buckets make your content relevant, dynamic and broad enough to give your page a very fresh look. Depending upon the size of your company, the stage of growth and specific objectives, you could choose some categories over others.
Who are we, what do we do. (including customer testimonials)
Product Usage (how to use, why to use)
New product launches
Celebrity endorsement/ PR
Employee engagement
Founder/ CEO news
Offers
Lets look at each in a bit more detail. Again, its not necessary to have news on each topic, but a variety of topics always creates more interest over time.
For example, a category like cosmetics is very widely understood. In this case, it is not as important to explain the product and usage, as it is to explain "Why us?". What makes our brand more interesting?
And sometimes, the emotional route, with consumer stories, founder stories, employee stories is also a great way to establish the brand, than simply product benefit stories.
Who are we and what do we do
mCaffeine does not use too many product benefit stories. Instead its product stories are around new products launched with the same magic ingredient - Caffeine. And how each product benefit is delivered to your skin. Social media is a great way to announce and promote new product launches. This showcases your company as innovative, responsive and exciting. In a highly competitive category like cosmetics, it is new product launches which set aside a company as innovative. Also the wider range of products means consumers will spend more money with a brand. mCaffeine does a great job of continuously launching new products and talking about them on social media.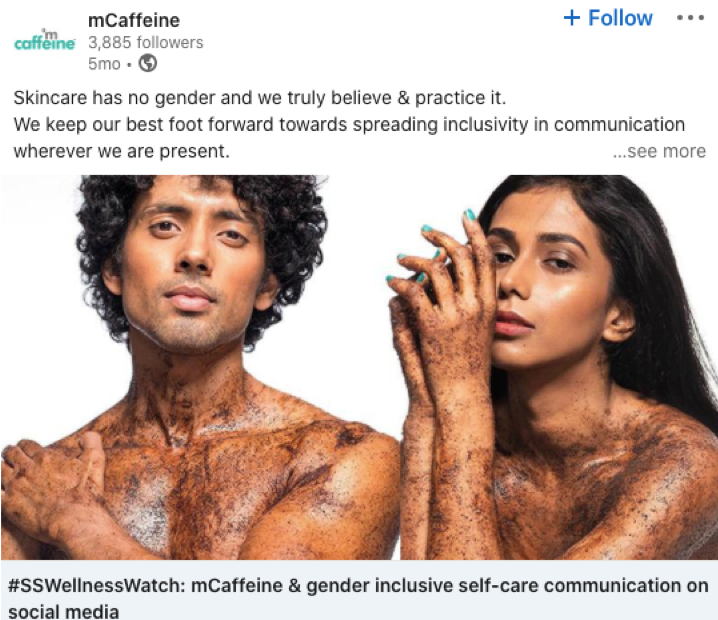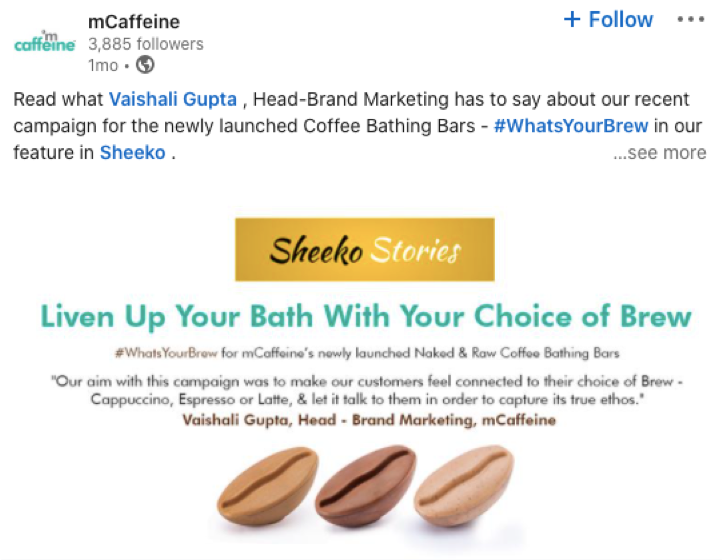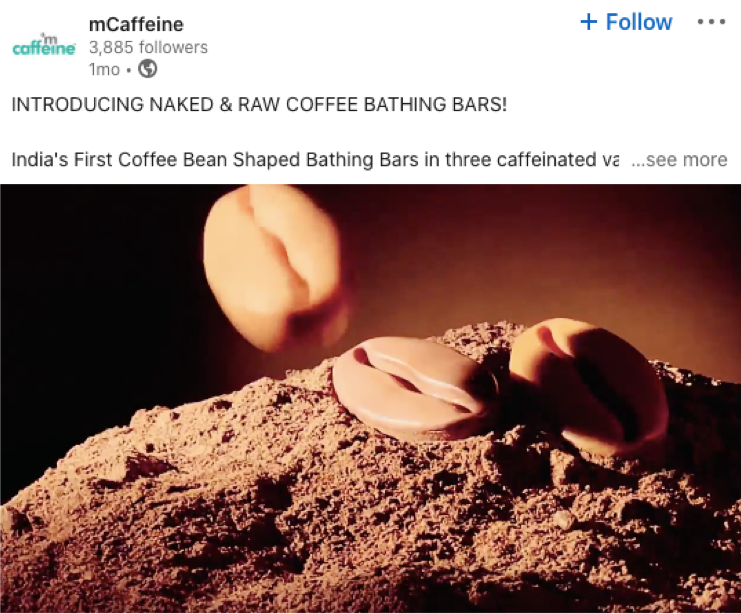 Celebrity endorsement/ PR
In order to further highlight the usage of the brand, celebrity, consumer and influencer stories are a great boost to its social media presence and consumer connect. This form of content is very powerful in the beauty business.
Mentions in the Press are also a great way to boost brand credibility and must definitely find a role in your social media pages.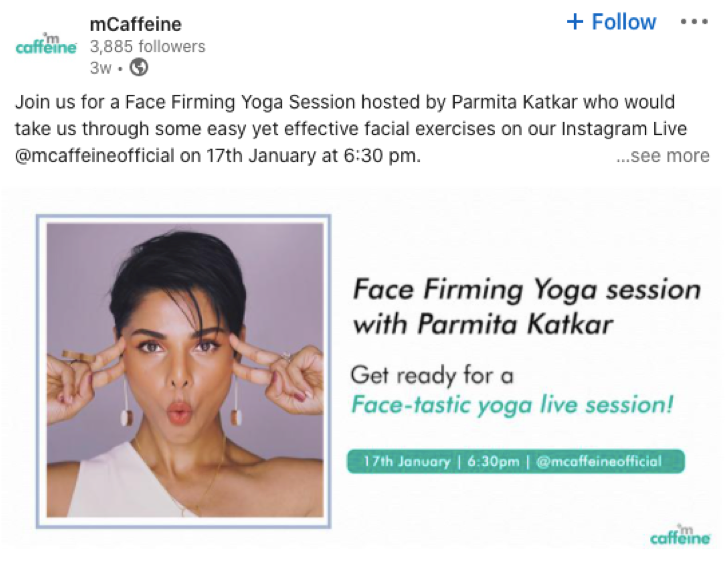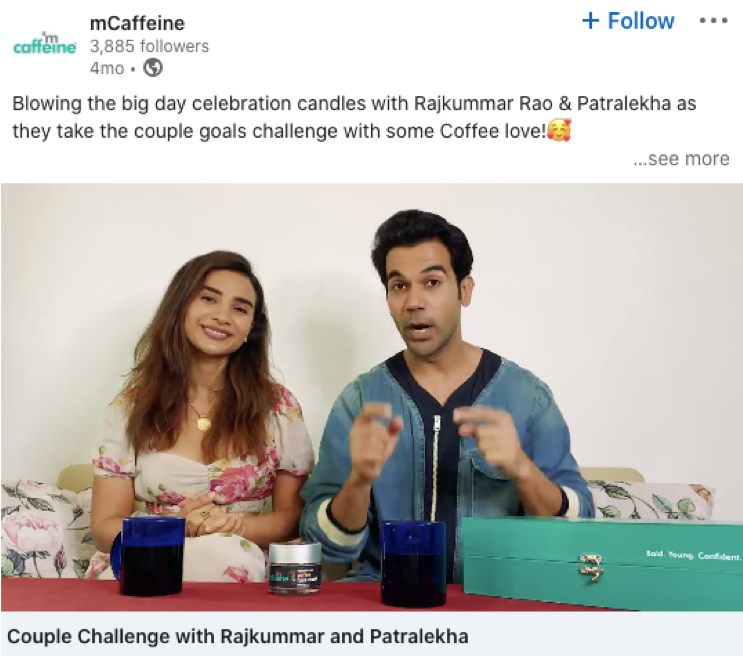 Employee engagement: Events/ festivals/ training
Employee engagement is a great way to "humanise" your brand with the ability to see "real people" working in your company and what their experience is. Employee stories/ hiring news all add credibility to the brand story and nothing generates more goodwill than happy engaged employees committed to customer success.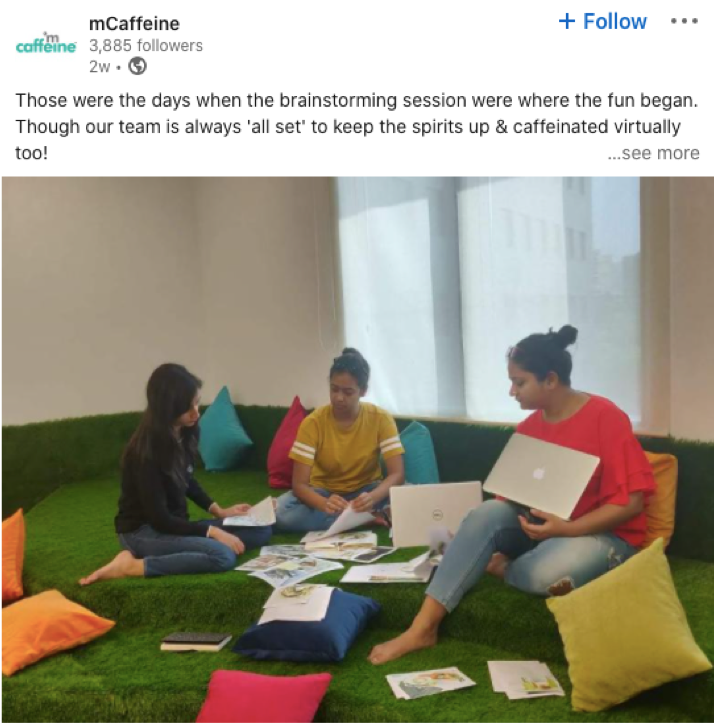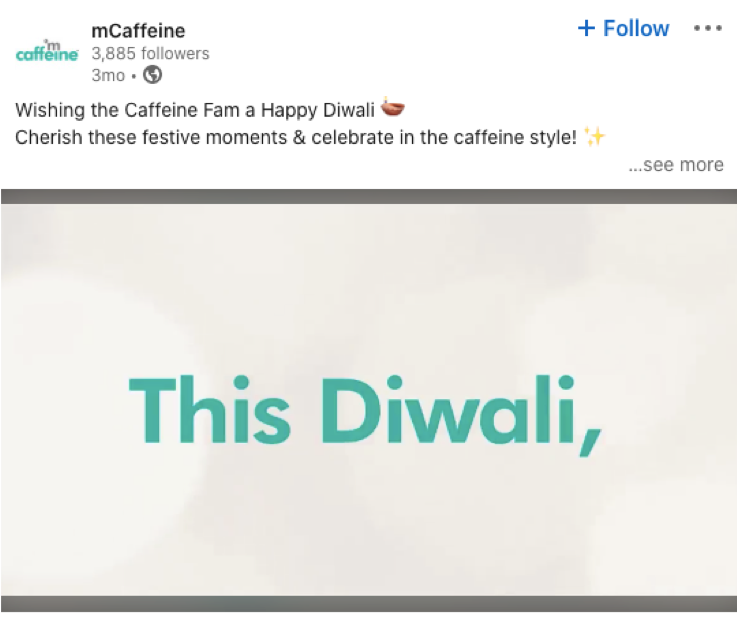 Founder/ CEO news:
News about the founder in the press/ in industry bodies or events adds credibility to the company as an authority and source of knowledge in its industry. Any positive news should be easily integrated into social media.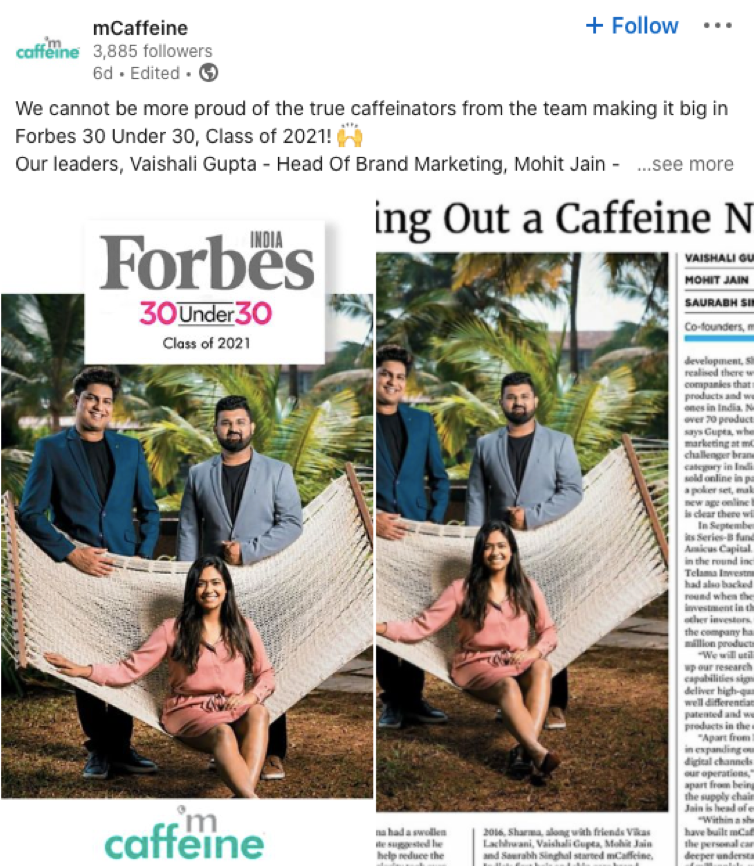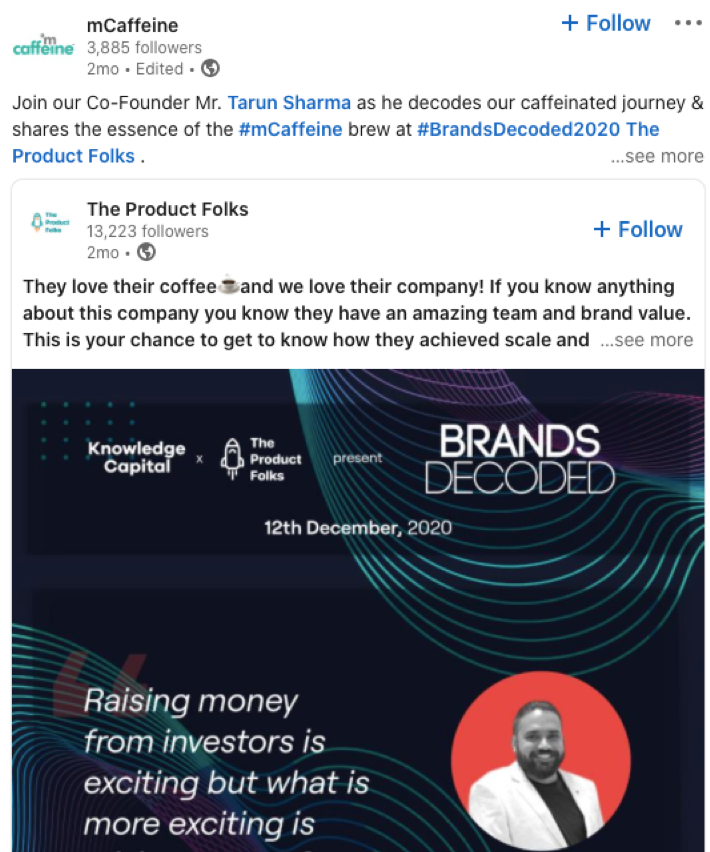 Offers and Promotions:
Any campaigns on the company products and services should be integrated into linkedin at the same time that it is shared on other social media. Offers are a great way to introduce a potential customer to a brand, allowing him to reduce the risk of a bad purchase. While Sugar has not recently shared consumer promotions on linkedin, it does engage though festival posts to participate in the consumer's life stories.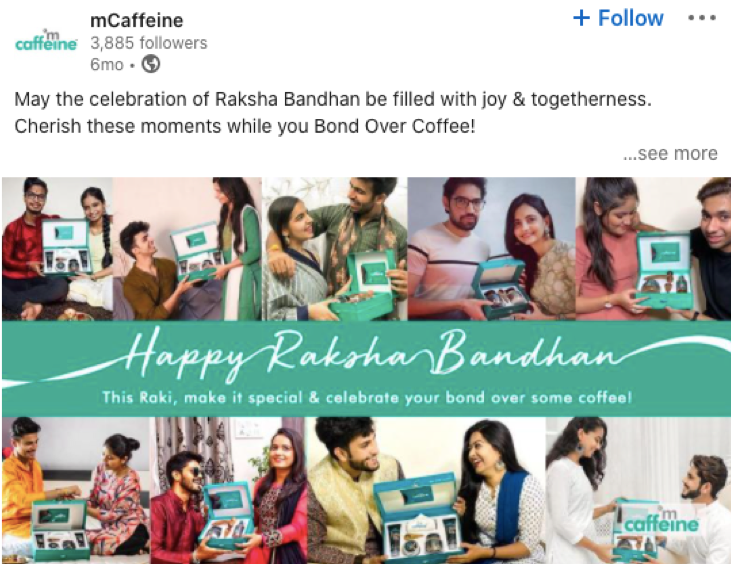 Conclusion:
There is always great content and stories about your company/ product or service. Often in the day to day routine, we miss seeing these stories as powerful engagement options. The idea of this note is to awaken you to these brand content stories and ensure that they are captured and shared, without being overlooked.